No one would associate either of these players with the Lions in terms of the potential HOF induction.
Boldin would go in as a Cardinal…
Wow I forgot Dwight freeney was a lion.
Boldin was very solid for us when he was here but agree with @BitterSyd he goes in as a cardinal.
I'll never forget that game back in the day, think it was the first game of the year, both rookies, Charles Rogers had a couple TD catches, Boldin had an awesome game. We lost but the hope was there with Harrington and Rogers…
But here's to Dre Bly and Jason Hanson making the HOF! Jason Hanson must have won his team more games than any kicker in history. Hell the first game I ever saw at the silverdome Hanson had like 6 field goals and we beat the Vikings 25-23 or something like that.
Jason Hanson had very few game winning FGs over a 21 year career (329 games). According to one source (Wikipedia), Hanson had 17 game-winning field goals in his career; eight in regulation and nine in overtime. Another source has him at 21.
In contrast, Prater had 11 in just 7 seasons (108 games) with the Lions.
That's interesting… but that is also looking at game winning field goals. It would be harder to figure out but how many games did we rely on field goals to sustain the offense and the defense managed to hold strong st the end? So maybe not game winning field goals, but still provided points for offense?
I guess that's kind of the same thing as most points by a kicker
That's why Anquan Boldin should go in as a Lion. He literally started his career in Detroit!
We won that game despite Jimmy Wyrick getting lit up like a Xmas tree by Boldin. That's how bad the Cardinals were back then. That was Dre Bly's first game as a Lion as well, and he had a pick 6!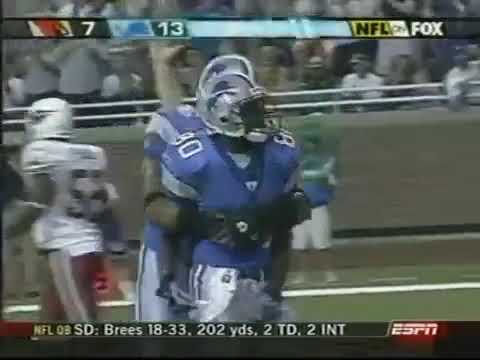 Hahahaha touché!!!
I will watch that video thank you for posting. But you are spot on about him starting his career in Detroit!
Lol that's what I said… and then I was like "oh yeah…."
My mind had completely blocked out that Freeney was a Lion.
Almost makes you wonder how he was on misses on kicks that would've won or taken lead
Since so many of the games were out of reach
Oh man just watched that video, we won! I thought we lost but that's how good my memory is… Boldin destroyed us that fast, 217 yards… and berman had to say "Harrington to Rogers, Detroit get used to this"
Ahhh, memories… thanks for sharing that even though we all know how it worked out… there was hope at that time