I think in both FA and the draft.
We definitely need pass rushers. I want to see what our tackles look like after a year in the weight room. Both clearly need to get stronger.
Walker and Harris have 22 tackles between them, it's DL and LB's.
Yes they do. BUT…Alim and Levi will likely be counted on to take BIG steps forward in 2022 and that would be a viable set of decisions.
Nick Williams should be gone as a depth guy and Flowers is likely cut. . We will have:
Levi, Alim, likely a top rookie, Romeo Okwara, Julian Okwara, Austin Bryant, Michael Brockers and John Penisini IF the Lions cut Flowers and draft a top edge player as is expected. We will likely also bring back Charles Harris. That would be 9 DL guys if we bring back Harris. Looks like we have room for another guy or two tops.
I don't feel like the Lions will go big in free agency for the DL after the investments in Levi and Alim but I am ready to be wrong there. My guess is we will look for veteran value to replace Nick Williams.
We used a 2nd and 3rd on DT last year and it is still a weakness on the team IMO. No pressure. Not really a force stopping the run.
Pass rush and inside linebackers are a massive weakness for sure.
Yes. Need WAY more pass rush. Bringing back Okwara can help.
Also, don't forget a solid LB corps can really help with run defense.
I had said this before but then kind of waffled that we could take WR with our Rams pick. Now I am back to DE end 2OA and LB/S with Rams pick. Go after a WR in FA and 3rd rd.
It has been clear for some time that the Lions have a poor pass rush. It did not take Green Bays starting lineup to figure that out. The first pick has to be a Defensive line man and it looks like it will be a DE.
Where the fun begins is what do you take next?
WR
LB
Another D-lineman.
My thoughts:
The two rookie DTs have to be given at least one or two more years to see if they are the guys. Neither provided a great push but they weren't horrible either. A bit more experience will do them good.
WR has to be take in one of the first three picks (2nd or 3rd pick that is)… There is some talent out there.
One thing I don't want them to miss is to use some of mid round picks to get some more O-line depth.
Sewell and Ragnow were out today and Decker left in the 2nd half. The balance of the O-line did okay but they weren't the punishing running team of earlier in the year.
Lions have a lot of quaility picks and some cap space. I hope they use it to address the needs listed above, In addition to this I'm in favour of giving Goff another year. He's not an elite QB but there are only a few of them out there so I would wait until next year's draft before looking at that position.
DE, DT, LB, and Safety are real issues.
Draft should be 1)DE, 1)WR or LB, 2)WR or LB, 3)QB or Safety
second pick will not have a good LB or even first rd second pick
The two best will be gone IMO
I do a lot more learning than anything, when you guys start talking about that sort of stuff.
I'm recognizing the importance of quarterback and wide receiver, watching San Francisco in the position that they are in right now
Don't know where else to put this, short of starting a new thread.
Walker's return is uncertain. Flowers' departure is assured. Many of the names you see here were on 1-year contracts and may not be back at all. Assuming they were willing, we would have these gaping holes: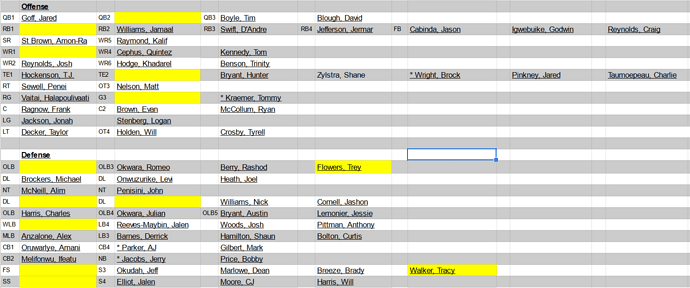 Even looking at that again just now, I've pulled Hodge from the roster and left WR6 open for another developmental player with upside.
Many are ERFA an will return if staff want them,. Few are RFA also an likely will return.
We have about 4 or 5 UFAs i would like returned.
Reynolds WR
Harris Edge
Walker Safety
These would be my first 4 to resign they are UFAs .
Your list doesn't show Stud TE,…C,…high pick CB… 10 sack Edge …Solid WR…AO another CB …you need to add these to your list to the roster that finished
This cup board is not as bare as your making out.
Bring back injured you have 6 starters 3 CB's 1 WR 1 TE 1 Edge OLB
You sign the UFAs i listed thats 10 or 11 solid players .
Watch an see who they add next week to roster likely as soon as tomorrow. They have one open spot I think.
Why is Charles Harris on it?