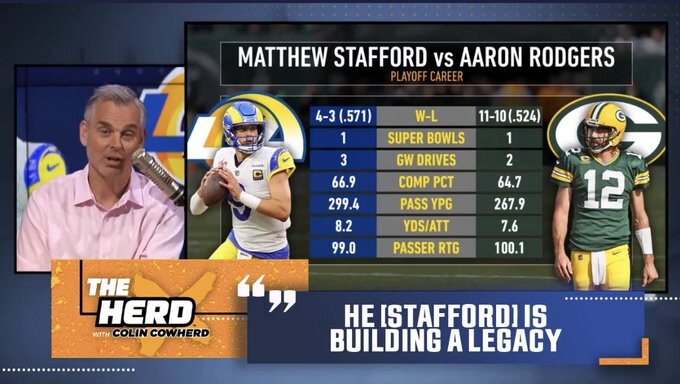 Well, the Stafford haters always used playoffs to slam Matt, can't blame the wives for throwing it back in their faces.
Erin is the most talented quarterback I've ever seen play, so obviously Staff isn't as good. But it's not like the difference is this enormous chasm, either.
Interesting. When he was in Detroit cowherd said he was an average quarterback. Comparing him to cousins. Maybe I should move to LA. It seems to make people instantly better at their job. Worked for obj too.
That was the point of the post.
Kirk Cousins is better than both of them!!!
This is why it's easy to sort through the pundits worth listening to from those who aren't. They will let you know pretty quickly whether they have legitimate opinions, or if they're just in it for the hot takes and controversy. People love hot takes and controversy for some reason I have yet to understand.
That's exactly why I don't watch any of those shows anymore. They just love listening to themselves talk. They don't analyze the games or offer any insight of value.
Exactly! Cowherd is the same dude that shit on Stafford for years.
There are plenty of good analysts out there, it's just most of them aren't on the major networks. PFF has a lot of good ones, and Diante Lee and Ted Nguyen over at the Athletic are excellent. The ringer guys are good. It's just the bigger the platform, the better the odds they're terrible. The big networks want that kind of controversy.
Wore a hat backwards here and Colin never forgave him for it. Now he loves him
Watching Stafford play last season I saw the exact same QB who we saw for 12 seasons in Detroit except with a better supporting cast.
Agreed and better coaching! But still the same gunslinger, throwing some picks, with lots of amazing throws mixed in. It sure helps when your team is loaded with stars. On defense alone they had 3 future hall of famers in Donald, Miller and Ramsey!
Wow! Look at those freak show stats!
Not as sexy as the bearded lady, but I get what he is going for…
I wouldn't ever have thought JMS was that close to Rodgers.
I don't know if I put Ramsey in the hall of fame category. He needs a few more elite seasons before that conversation is had.
I'm betting he cuts those interceptions in half this season. He had a lot of turnover last year plus learning a new system. They also didn't have much of a running game. Year two everyone should be on the same page now.
Fair enough, he's entering year 8 as a lockdown corner! Not many guys have done that for 10+ years. He needs a couple more elite seasons for sure, but he's trending that way. The other 2 I mentioned have already cashed their tickets.
What's he gonna say about Goff when he leads the Lions to division/playoff wins, and a SB appearance?