Cowboys are 13 MILLION over the cap as of now for 2022!
It's my impression that he hasn't been all that good for a few years.
I think Parsons is the reason he saw his playing time cut.
Move him inside, a more natural position for him. Great size, good sideline to sideline movement, a very good block shedder and he is above average in coverage.
He's injured all the time, and his injury rate will likely increase as he ages…NOPE !!.
Regardless if he's a target or not, very interested to see how they address LB. If Anzalone is gone, that pretty much leaves JRM and Barnes right? And JRM is a FA as well I thought…
I liked Anzalone even with his limitations… he seemed like a good guy and a trooper. And he got better after Collins left which made me respect him more assuming he was covering for Collins a lot. AND he definitely has a career after football in 80s hair metal cover bands. You could plop him into whitesnake and no one would know the difference.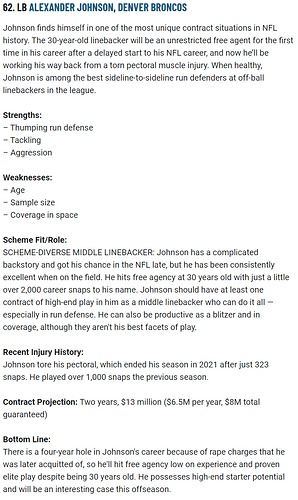 Alexander Johnson is an interesting LB target.
In 2014 Johnson was accused of rape after a party. It was while he was at University of Tennessee, where he was a teammate of Jaylon Reeves-Maybin. Possible Volunteer reunion in Detroit with Reeves-Maybin and Johnson? I believe they started one year together (2014) before Johnson was suspended in November.
Barnes needs to WIN a starting job and I'd still look for more talent at LB in the draft.
Alexander Johnson seems to fit the tag lines of "Grit" and "Culture" here in Detroit. A Redemption story of never giving up and continuing to push forward despite the obstacles in your way. Sounds like a Dan Campbell type of guy.
Interesting story, and he was acquitted… but 30? I'd rather they focus on younger guys… but good find for sure
With a Trade Down from #34 to approximate #45 LB Charles Harris from Alabama could be a good target. Sideline-to- sideline speed Run Stuffer, smart player at diagnosing plays, average pass coverage…And, and, the lions should net another mid-3rd rounder via the trade for TE depth, another WR, or others. Lions don't have a 4th, but they would now have 3 3rd Rounders in this scenario…
I'm curious about Oluokun from Atlanta that sealed the game against it. He seems to have come into his own this year. Again, we'd have to be okay with going small at LBer but sub 4.5 speed me a Yale grad. Also the son of Nigerian immigrants so he'd fit right in on our defense.
He would be an interesting choice as a stop gap vet for a couple years for sure
They do need a vet
He may be 30, but low mileage