I am not going to allow something as simple as recency bias to not give a reasoned reaction to Just Fields being at 33…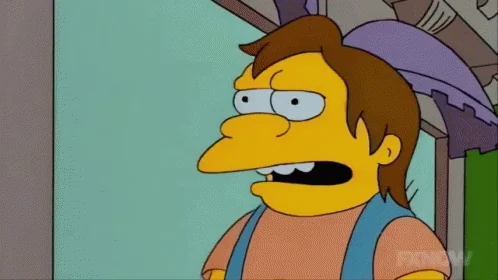 WTF is Tyrod Taylor still so high? He hasn't even been playing!
Great minds think alike…and you & me in this instance…lol…
But whaddaya mean "still" ? Doesn't that — symbol mean he wasn't even on the list last time? I guess I could look at the old list, but I'd rather trim my pubes with a broken bottle than validate their nonsense with a click…
I just think it's funny as last week the list had 34 QBs and now it's grown to 36!
And last week fields was 28 and Goff was 34?!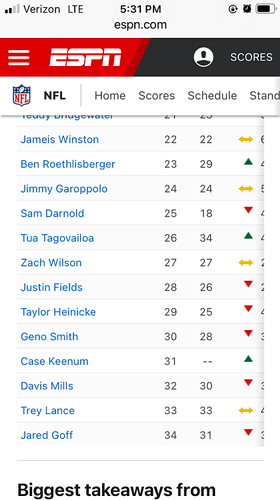 I don't blame you one bit man! Here's the original one posted. Tyrod wasn't even on it! Just like you said. I guess I was misremembering. lol
Yeah, the criteria have to be pretty random.
There was a famous professor at Cambridge University who was notorious for grading papers by throwing a stack down the stairs & giving the best marks to those that landed near the bottom, weight/length being the only criterion in play.
A heartfelt thanks for taking the mental hit for us. Right up there with Spock irradiating himself to save The Enterprise.
You're a great addition to this board man.
As long as I'm doing less damage than espn, I'm pleased to hear it.
At the rate of improving seven spots per week, he'll be number one in four weeks!
And hopefully a four game winning streak!!
I like your way of thinking
Especially when you get bumped up 7 spots after throwing 2 ints, and your only TD is a 1 yard screen pass to the RB who takes it for 60 to the house.
Super Bowl here we come!
Get him a WR and his O-line back and he might even do better.
Oh, stop it. Any QB who can't take a rookie tackle and four backups on the line - along with this prestigious WR group - to 13-3 and win his division shouldn't be in the league.
exactly… and I also realize that people like Teddy as a person… but he has a pretty good offense around him and still can't get it done.
Wait, you're exaggerating man. He's only get three backups on the O-line. So maybe 13-3 should be 15-2.
Now he might be the tallest midget!