Imo he replaces Brown as the top backup C/G. I like having the depth.
Right I'm fine with this as insurance, but I really don't want to start him. He was really bad last year. Coming off injury, sure, but even before the injury he was struggling.
Well at least one previous mistake is fixed.
Very interesting, several posters brought this possibility up.
So is he depth only?
Evan Brown is clearly gone.
Oh yeah, I don't think they are planning on starting him.
Glasgow!!!
We upgraded from Evan Brown and Jamaal W
With the contract being up to 4.5, makes it sound like he's depth, but if he needs to start due to injuries on the line, he gets paid more. Sounds like a smart deal to me based on Ragnow and Big V's injury history.
Hell yes we did! GREAT depth signing. Graham us a baller and I have no doubt injuries caused his decline in 2022.
Turns 31 in August. Fantastic. This makes us better in 2023.
So Brown has to be gone then?
I like the value with this signing. He has a lot of experience and can play all 3 interior spots. Not going longer than a year is a smart move since he struggled last year.
Although he's better than Evan Brown, not by much, I'm not a fan of this signing. Glasgow has fallen off. I suspect it's do to injuries. We still need to draft a starter IMO
We definitely need a starting RG unless they have that much confidence in Vaitai. Witch would be more confidence than I have.
Price tells you he's an expensive backup.
The question becomes, do we have an expensive backup backing up an expensive RG, or do we have an expensive backup backing up a Rookie?
I think the starter is helping Sewell below…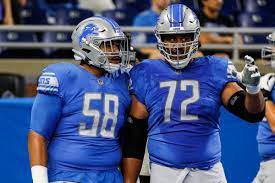 Steve Avila out of TCU in round 2
Gives us the leeway to wait until the 2/3/4 rounds, where the real iOL value is in this class.