i have seen some say 9 and some say 10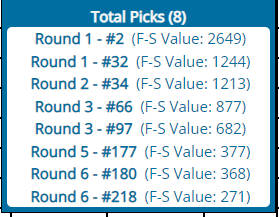 $10.4 million to sign all 8 (current) draft picks.
It's 8 right now.
We might have the Patriots 7th too. Not sure when that becomes official.
OTC is probably right, but I will note that Chris Burke and Nick Baumgardner at the Athletic have mocks showing a 7th round pick.
When does the nfl make all pick official
The pick in question is a 7th rounder that was conditional for the trade of CB Micheal Jackson.
NE cut him and stuck him on their PS and later in the season activated him to the active roster. The NFL rules changed last year on PS designations so it's a bit of an unknown.
Depending on how the trade was structured and depending on how NFL rules apply determines if we should get one.
But the way I see it is that he was on their final roster at year end. On their PS all year. I can't see why we wouldn't get that pick.
I would think that it's being Waived at the cut to 53 more than anything else. That's just my guess anyway.
I guess it comes down to the wording in the trade.
But the NFL made changes after that trade in how the PS is designated. Teams could protect players on the PS.
I would assume the Lions would file a grievance in that effect if it appeared they weren't getting it. Maybe they did.
I guess we'll find out soon enough
Well, 8 for sure and normally I wouldn't care about the 7th round pick but in this draft I think there is still going to be a chance to find a WR or TE.
Usually the condition is making the opening day roster. Which makes sense, as we were cutting him and the Patriots made an offer that could only benefit us.
Also, a Pats website that does a great job of tracking all thing salary cap for them says they don't even have a 7th anymore, which means one of their 7th round trades would be their 6th round pick. Patriots wouldn't make that mistake.
It's safe to assume we don't have a 7th round pick for Jackson.