DC said we're 1-0… new season. Run the table.
I noticed Pederson was looking for a flag on Houston's sack… but I watched it again and the initial contact was to TLaw's thigh area.
from the article on milve…
.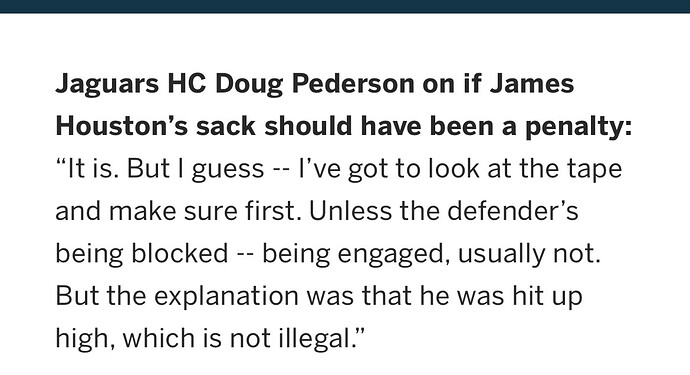 .
Can't hit a QB high… can't hit them low…
and even a hit to the thigh gets coaches whining.
Houston likes to finish with that alligator death roll, which is what made that hit dangerous, not the location of the hit. Probably next qb protection measure coming down the pipe.
They definitely make it hard to sack the QB. Remember earlier in the year when the defender pulled the QB on top of his own body, and got in trouble for that too? At the end of the day I think that alot of the rules are to protect the QB, but the NFL loves having them in place to influence games as well. You can take away any sack in a game and use a rule to do it. There is no such thing as a 100% clean way to hit the QB.
I have actually been thinking for a while now that I wonder if some coaches are going to have their players wrap the QB up and just hold them there until the whistle blows. The Jalen Carter thing was over the top, but that's kind of what I was envisioning. As long as you pin the throwing arm you should be okay.
"We've lost eight games this year, and never have I felt like we got embarrassed like we did today. That can't happen."
They have beat Baltimore and have lost to the Eagles and Chiefs, but singled out the Lions as the most embarrassing
MCDC has clearly lost the locker room.
That one gets funnier every week.