What are the odds that Stafford and Kupp can stay healthy for a full season?
I mean probably not great odds. But they both stayed healthy just 2 years ago all the way to the Superbowl. I worry more about Stafford than Kupp due to age. Kupp's injuries have been more so bad luck in nature. After last season we are due for some luck on the injury front.
I need to book a vacay in Cabo…
seems like a great place to have a random meet with a person that can change your life!!!
You might even meet a talented Hooker with a bad knee.
which knee??
left knee… nope.
right knee… nope.
"wee" knee….
If your Hooker has a weeknee, best of luck to you!
Lets simmer down some…
More like 60 %
The Paul Hogan Check. Couldn't get away with that movie in 2023.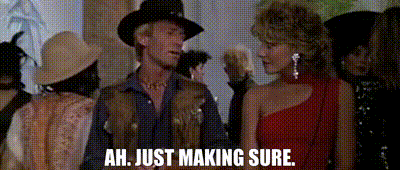 I'm offended by that statement.

I love Matt and I love that he has a Super Bowl ring. I love it even more because he wasn't just along for the ride. He was a driving force.
But make no mistake. The 2022 season wasn't a glitch for Stafford, it was a feature. In 12 years with the Lions Stafford had 8 losing seasons. Matt is definitely a force multiplier. But he is not going to turn a negative value into sprinkle covered icecream. Matt can overcome a bad offensive line if guys are getting open. If guys are not getting open, he needs a good offensive line. Its hard for Matt to deal with a bad defense, partly because his playing style adds to pressure on the defense. Matt can't deal with 2 out of 3 bad units between guys getting open, offensive line protection and defense.
He needs to take care of the ball better, 25 ints in 26 Rams games. Now that's easier said then done when you are getting crushed every other drop back.
In 2021 Super Bowl winning QB Matt Stafford led the NFL in interceptions.
He tied the INT honor with Trevor Lawrence.
I wonder how many times that has happened? I'm guessing never before…he's like the Carmelo of the NFL.

60% chance NO !
Yes, Matt Stafford is still with a contender. His wife is a contender for most accurate soft pretzel throwing in the greater Los Angeles metro.
Soft!? I heard she was throwing stale pretzels with sharp edges. She's a firecracker.
Kelly threw a soft pretzel but Matt is throwing her stiff sausage. Lucky guy.