Not sure how accurate but…
Replying to
Maybe has separation anxiety.
WR coach should make him some Offspring mix tapes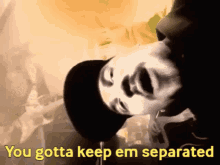 It's almost like he hasn't played in 2 years…
If he turns out to be Anquan Boldin, still a good pick.
Its just a opinion at a camp i just read another article writer said the play was sub standard Like explain that one to me from sidelines an not in meeting rooms sure not getting paid to coach
We all have opinions but that's all they are i am sure Chase will catch some footballs an get separation an i am sure the players that are substandard today might be better tomorrow.
Lets just enjoy idea of football being back an lets hope are \Lions if we don't win like HC said make sure winners know they were in a game for the full 4 quarters.
Man I wish I could enjoy football on the horizon but Calvin messed up his ring of fire ceremony
I remember when Ranger pointed out Chase's lack of separation and it made quite a few of us go to the film and see the same thing. He's really good at contested catches so I think he's going to be alright. I look at him more like a DeAndre Hopkins in that regard.
I had to chuckle at the tweet…
Reports are coming out of bengals camp that Jamaar Chase isn't getting much separation… which is crazy because if you watched him in college he didn't get much separation there either
I wasn't trying to hate on the guy and he did go expectedly high (though not as high as the ahem… other pass catcher lol), but if I'm dropping that high of a pick on a WR, I want it all and he just did not deliver that IMHO. A guy like Golladay doesn't go top 5 for a reason even though he has a lot of other great traits. Now in a redraft he doesn't fall to the 3rd round either, but he still doesn't go top 5. Chase didn't have the height though either. TBD.
Could you imagine the heads exploding and barrage of I told ya sos on this board had he been a Lion doing this? The kid will be fine.
Give him some time. It's the Bengals….it's gonna take a little while to get it going.
Jerry Rice dropped passes as a rookie as well. He said he was trying too hard and needed to relax a bit. I have zero concerns about Chase's hands. He uses the ball out of the air like DeAndre Hopkins and Larry Fitzgerald.
One thing I would also add is that an NFL football is different than a college football. So there is a slight learning curve there too. Particularly for a hands catcher like Chase.
Good points @wesleysh21
Also… taking a closer look at the actual plays… this story is another weak effort from PFT to make a "hot take".
Check the link below and watch.
Also… Joe Burrow threw ZERO passes to him.
Pass #1 - slant route with ball thrown so far behind him that he barely gets 1 hand on ball and falls to ground because he had reached back so far.
Pass #2 - a skinny post thrown high (and maybe a bit late) with Landon Collins breaking on the route. Call it a business decision if you want… but I don't blame Chase for the "aligator arm" attempt in a preaseason game.
Pass #3 - a 5 yard in route against a 2 high safety look that allowed the CB to play inside leverage. That caused Chase to stumble a bit out of his break, and the CB was even able to contest the catch as the ball arrived. Better ball placement would have helped on this throw as well.
Chase is going to be really good. Though these sort of reports do lead me in the direction of keeping Tee Higgins in my fantasy league. Seems increasingly likely he functions as the number one in 2021.
It's the world today. Immediate results or ya suck. Like @Weaselpuppy said it's like he hasn't played in 2 years lol and @Phunnypharm said Burrow wasn't throwing him passes. Chase said he needs to get up to speed with the NFL game. He'll be fine if the O-line can keep Burrow upright this year.
Love the graphic but Chase would never get that much separation. lol
Anybody looks like a player! What's his 40 time?
Ya - Anybody is just like Chase! But anybody is no match for Sewell! So we're good with two anybody WR's this year!