I remember when a few Lions fans were on Ford for not getting Jimmy Johnson to join the Lions as HC-GM. However, there are several reasons why it would have never happened as Peter King relates here:
I consider myself pretty knowledgeable about the life and times of Jimmy Johnson, who I covered fairly extensively in his career. The mark of a good book is that it reveals things about a subject you were sure you knew well—when you had no idea about so many things in the subject's life. That's how I felt reading "Swagger: Super Bowls, Brass Balls and Footballs—A Memoir," by Jimmy Johnson and Dave Hyde.
Three things that opened my eyes:
The details of Johnson's bad relationship with Don Shula.
How Archie Manning asked Johnson, then the coach of the Dolphins, to try to trade up to draft his son Peyton in 1998.
The depth of his personal regret of ignoring so much of family life in his singular focus to try to win football games, and the pain of dealing with his son Chad's alcoholism.
On The Peter King Podcast this week, you can hear Johnson discuss the book and that last regret.
"When I went to my mother's funeral [in 1998], I couldn't look at her in the casket," Johnson told me. "That's when I realized what I'd missed out on all those years. That's what made me retire. The situation with Chad is, you know, both sons played football. I never saw either one of them ever play a game. I was always trying to win a championship. I always felt like I needed to outwork the opponent."
I never saw either one of them ever play a game. That's pretty eye-opening.
On Shula: Johnson had Shula's son David on his Cowboys' coaching staff when he took the job in 1989. In '89 and '90, David Shula was offensive coordinator and QB coach. In 1991, Johnson decided to hire Norv Turner as offensive coordinator and move David Shula to receivers coach. Out of professional courtesy, Johnson called Don Shula. In the book, Johnson writes: "Don was angry in a way that never left him." In 1996, when Johnson succeeded Don Shula as Dolphins coach, he writes that in their first meeting after Shula retired, the ex-coach told Johnson, "You really f—ed up." Shula told him he'd cut too many veterans like Troy Vincent, and Johnson told him he had little choice because he inherited a salary-cap mess.
Before his first season in Miami, Johnson said he knew he was supposed to talk about the great tradition of the Dolphins, and to pay tribute to those who'd laid the groundwork there. "Well, forget that," he said. "I only care about one thing—the present. The people who are here to win now."
Now you know why Don Shula, the winningest coach in NFL history, was no Johnson fan.
Archie Manning called Johnson before the '98 draft to ask him to try to work a trade so Peyton would land in Miami. One insurmountable problem, as Johnson writes, was offering Miami's entire draft to Indianapolis to move up. "We picked 19th," Johnson said. "People say, well, what would you have done with Dan Marino there? Well, you know, Peyton would've been behind Dan. But the way it worked out, Dan missed games every year and so Peyton would've been thrown into the lineup."
Added Johnson: "On top of that, Bill Belichick came that close to coming down and being my defensive coordinator. We could've had Peyton Manning as our quarterback and Bill Belichick as my defensive coordinator. But he had too much loyalty to Bill Parcells [on the Jets' staff]."
There's nothing stunning in the book about the strife between he and Jerry Jones. I asked him on the podcast: "Were you utterly shocked when you heard Jerry said at the [1993] league meetings he could win the Super Bowl with 500 coaches?"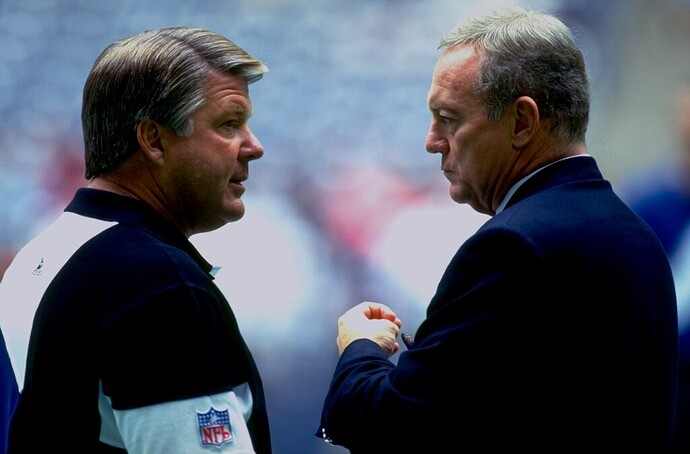 Johnson and Jones in 1993. (John W. McDonough / Sports Illustrated via Getty)
"It hurt," Johnson said. "I lived three blocks from the office. I put in five years there of … sacrificing my family to try to rebuild the Cowboys. Tom Landry's one of the greatest coaches ever but he had three straight losing seasons and they were the worst team in the NFL at 3-13. To take that team and to rebuild it, not only into a Super Bowl winner but the youngest team in the league to win the Super Bowl, that was gonna be really the team of the '90s, I was proud of that. I was proud of our accomplishments … Maybe 20 or 30 could've won the Super Bowl with them. But I helped put that team together. So, it hurt."
I thought when I finished the book that there's a lot in here for extremely single-minded driven people, regardless of profession. Check yourselves. Examine your lives. The stories are superb, of course. But the familial stories make the book. Such as the following one.
Voices
30
Johnson, on his son Chad's trials with alcohol:
"I didn't even realize Chad was having a problem. He became an alcoholic. I mean, I could tell you stories that he went through. Just devastating, because I didn't even know it was going on. He went to a couple rehab centers. I'd lay in bed at night, crying my eyes out. Saying, 'I'd give a million dollars if somebody could get him back on track.' When he absolutely did hit rock bottom, we got him into a halfway house. Next thing, he started getting better. He ends up taking over the halfway house. He took over the whole facility. He went and got doctors and consultants to get it certified as a rehab center and they became just unbelievably successful … Now, he's opening another one up in Austin. I would go and I'd sit in the audience next to Chad, and, like, a mother and daddy would go up to the podium. They'd have all the recovering alcoholics and all their families there. The mother and daddy would say, Chad, thanks for saving my son's life.
"And then a mother would go up. She told this story. Chad, you picked up my daughter at 3 o'clock in the morning and drove her around for four hours talking to her and then took her to detox. Thanks for saving her life. I mean, I'm tearing up now just talking about it. Businesses had tried to buy Chad's facility and he said, Daddy, I'm not in it to make money. He said if a business bought it, they'd have like one counselor for 10 or 20 clients. We have one counselor for every four clients. That's why we're successful. He said I don't care about making money; I'm doing something to help people. I mean, it's such a success story that I'm so proud. When I talked to him, I said listen, I had a couple undefeated national championship teams, as a player, as a coach. Won a couple Super Bowls. College and pro football hall of fame. Broadcasting hall of fame. Nothing that I've ever accomplished comes anywhere close to what you're doing in saving people's lives. I mean, it's touching to me."