I'd trade for their 1st 3 picks this year.
As would I. 16 and 19 can get you Garret Wilson/Jameson/London and Wyatt/Davis/Dean/Lloyd/Jermaine Johnson. At that point I would be reluctant to keep our pick at #32. Five picks in the top 50 is a lot of cap to invest in rookies this year, as well as a problem extending them down the road. Try to unload #32 for a future first and maybe a 3rd this year to a team that could struggle next year like Seattle/Atlanta/Houston/Washington/Pit.
That #32 can buy you a cheap 5th year on a guy too…it has + and - implications.
They need talent, so I'd rather they use it. They saved cap space by not signing anyone on defense worth a shit…use it!
My guess is we lose out on Wilson and London at 16. You get Williams or Burks. Fine by me!
At 19 You hope Johnson is there but maybe probably not? Probably the same with Lloyd. Dean is good there unless there really is something to him potentially dropping down the board, in that case Davis. Him and Alim shoulder to shoulder would be awesome.
32 and 34 then gets you your defensive backfield guy and an edge like Mafe amd CIne/Hill/Brisker.
49 from the Saints gets that LB or IDL we missed at 19 and 66 gets you something fun.
They are going after Willis HARD!!!
That's what she said.
My bigger issue is what happens if we actually hit on all those picks? Odds are you re-sign maybe 3 out of 5. Just makes it challenging keeping your own. I'd rather take a gamble on netting a top 10 pick in 2023, especially when we aren't going to make noise this year.
That or I use the Saints 2nd to move up to get someone specific. Maybe Walker falls to the bottom part of the top 10 and you use that to get him.
Man, oh man, would I love to have that problem. We have too many good players? 3 of which have a relatively cheap fifth year option? Sign me up if we can actually run into THAT kind of trouble.
Agreed… and I think there is this type of transaction… which seems to be utilized more frequently to acquire veteran players in recent years…. oh yes… I remember… I believe it is called a "trade".
I am not disagreeing with you here, but these are the things good front offices do. The cap is so fluid and if you aren't looking 3+ years in the future you get youselves in deep water. Same reasoning why I think taking a CB early in the draft doesn't make financial sense unless they have plans on moving Okudah to safety.
I'd take that deal. This team will compete faster adding 3 very good player vs 1 possibly elite/very good player. I like Hutchinson a lot but even as a Michigan fan I don't see him as a sure fire elite impact player. He's still a bit boom or bust. Although I think he'll at worst be a solid nfl starter. To me he's either going to be jarred Allen or Kyle Vanden Bosch.
This team has too many holes to fill. I'd take the trade back and add 4 starters from the top 34.
Not just okudah. Who's to say you can't move a guy like Jacobs back there either? You could also move iffy if you want a Kyle Hamilton type player.
Five in the top 50 and seven in the top 97? All day. You do well on Thursday and Friday and you're basically spending all day Saturday playing with house money.
Lions should act like they are taken a qb. Traded down would be great. Could get 3 of the 4 needs in round one
More than 1 way to build a roster…
and if all those picks turned out…
the Lions would be able to trade a player…
for MORE beans…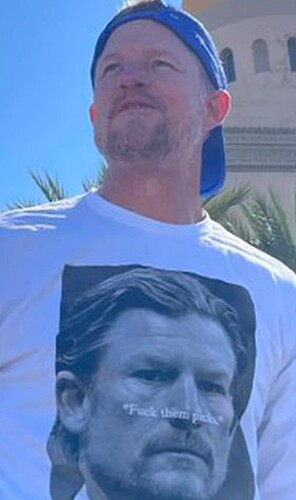 I think it's coming, man. (also what she said)
Brad's gonna be cutting good talent all over the field soon enough.
Good point Broseph
For the love of God, can we please start calling this dude Hammy?
Woooord! I'd love it too.
If I'm a team that wants to trade up for a QB, and the Lions are acting like they are taking a QB, I'm calling the Jags.
Boom! We got Hutch! Still win/win.
Hutch for 16, 19 and 49. Gimme the draft choices, we need lots and lots o' talent.
Though getting Hutch is better than getting whomever at 2.
The 5th year option isn't really that cheap anymore. From what I remember it used to be, but not any more. Kyler Murray's 5th year option is equal to the franchise tag for QBs, because of the incentives he reached. Its pennies shy of $30M. Brian Burns tag is equal to the transition tag due to incentives, which puts him at $16M and one of the highest cap charges in the league for edge rushers. Nick Bosa's 5th year option is a hair under $18M. In order to get a "cheap" 5th year option out of the guy these days, it has to be a guy that doesn't play alot (because he sucks or he gets hurt).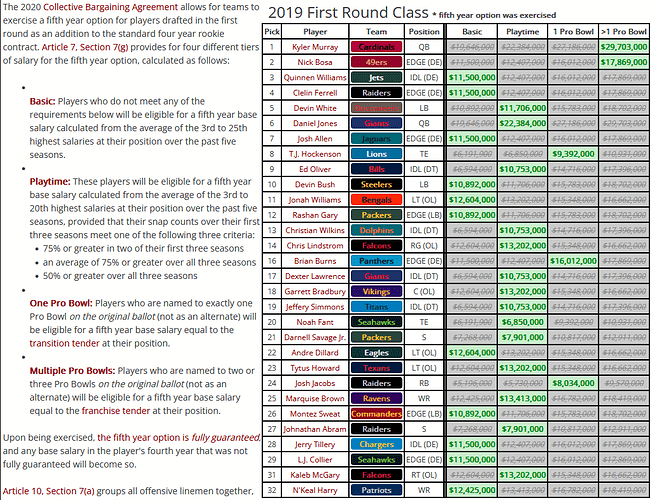 I am not expecting to hit a franchise tag level player at 32, if we do. then great, I'll pay for that. It isn't certainly cheap, so correct. To me it almost seems more like the arbitration process in baseball, where 6th year guys are paid 65 to 80% of market value the year before they are FA eligible.