Lol it's hard to take a Middle Schooler seriously when they're standing there smoking a cigar
I feel like I'm the only one seeing this. I literally laugh every time I see him in an interview…especially in street clothes. He's a tall 14 year old lying about his age.
…then there's his fashion sense…he dresses like a 14 year old that won the lottery. LOVE IT!!!
I have no idea what he's doing every time I see his game day outfit lol.
Side note It's incredible what OSU is capable of. They recruit so well that this guy had to transfer out in order to play. Now in hindsight he should have been playing, but wild that players like him & Jameson Williams leave OSU so they can get playing time at SEC schools
it is crazy to think about.
I can just see his mother waking him up before practice like it's rocket football…"C'mon, Joey…we gotta get you a good breakfast if we're gonna win the SB this year." …Then driving him in to practice.
He then shows up & shreds NFL opposition. LOL
In a couple more years, his mother will be buying him a razor for Christmas.
As the story goes Joe isn't into fashion and would just throw on simple pants and a plain t-shirt every day. But he let's his teammates…and in particular his receivers…pick his attire. And being Joe Cool means he just throws it on and rocks it like he picked it out himself.
That's why he ends up looking like Ryan Fitzpatrick wearing DeSean Jackson's clothes alot of the time. Because that's the look they are going for.
So personal style wise this is how he dresses: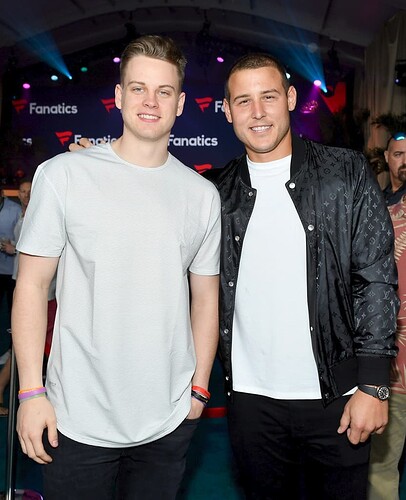 But when guys like Jamarr Chase get to pick out the threads, he ends up like this: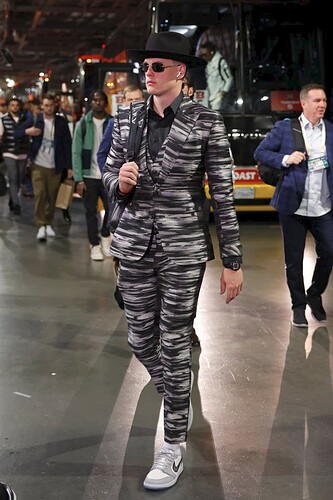 I love that story!
…& he still looks 14 no matter how he dresses.
Burrows.
He is this generations Joe Montana.
Call Isotoner!!!
That is a cool story. Didn't know that.
I'm hoping they win it all this year. Zac Taylor kind of cracks me up as HC. He's like a kid himself sometimes, without the arrogance and punchability of the Eagles HC. I appreciate a dude that has the world on his shoulders and can smile and enjoy himself while carrying it.
The most impressive thing about Taylor to me is he was 6-25-1 after his 1st 2 seasons as head coach before making the super bowl in year 3 and almost winning it all. Now back in the AFC championship in year 4. Nailing those top draft picks is key to turning things around. Burrow, Chase, Higgins to name a few studs drafted in recent years.
It gives me hope the Lions may be on a similar path as Cinci. Both just pathetic organizations for decades finally turning shit around.
Between Burrow and Allen, I'm taking Burrow… I think he's a more cerebral QB. Allen has the physical tools, he may settle down as he gains experience, but he has a bit of that gunslinger trait in him, always looking for the big play. Burrow takes what the defense gives him. He also took a very flawed team to the SB last year, has beaten Mahomes 3 times and Allen once (was winning in their 2nd game pre Hamlin injury) in the last 2 years. I love Allen's game and physical traits, I think Burrow is a better QB today though.
People need to hear this more often. The amount of BS around QB wins is incredibly stupid.
And due to ownership and financial constraints, Zac has had to have that kind of success while having to wear more hats and not having everything that other teams take for granted. Had they not made it to the Super Bowl the indoor practice facility would have never happened.
Detroit Lions practices be like…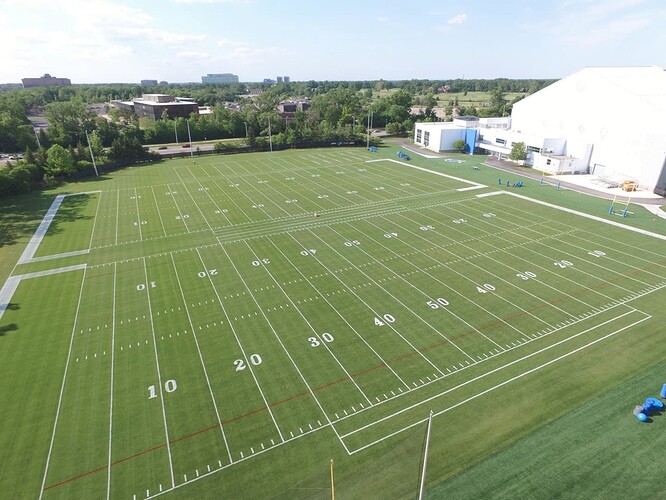 Cincinnati Bengals practices be like…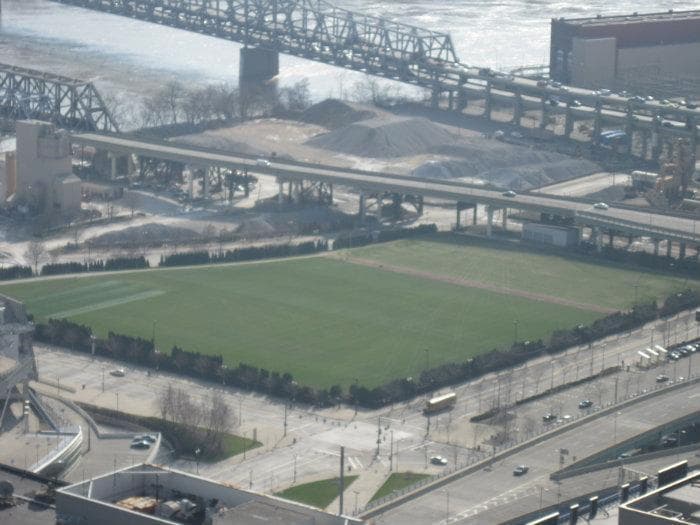 This topic was automatically closed 240 days after the last reply. New replies are no longer allowed.