Man I love a ballhawk safety !!!
I was thinking today if I bought a new Jersey, who would it be of…and I just like too many guys on this roster that I don't know!
Nah. Hutch is my fave. St Brown also my fav. And Goff. And Jamal. And Houston. Kerby is like 1F though.
Loved this guy before the draft, kept mocking him to the Lions in the 3rd round… He's a baller
I really like a lot of guys on this young defense but Rodriguez is my favorite!
Wait, i gotta get Ragnow Sewell and Decker in there tooo…
Well if you were to buy a new jersey, I'd wait until the new ones that we're getting come out.
I might have to get a Kerby one myself.
Curious was pimping him early and often to us in the 3rd round. I thought about him, but I ultimately went with Nick Cross who was snatched by the Colts one pick before. So glad I didn't win any mocks with that pick.
Oh, good call! I'm not a big jersey guy, but I think it's time to move on from the Stafford jersey lol
Best lions corner after bly. Anzalones look scares packers
Sewell, McNeil in the 3rd (this guy doesn't get talked about nearly enough), Ra in the 4th!!!, Hutch, Kerby in the 3rd, Rodrigo in the 6th!, Houston in the 6th!!!, Paschal and Jamo will be much bigger contributors next season. Holmes is the draft whisperer.
Ragnow needs to get that toe of his taken care of one way or another this off season.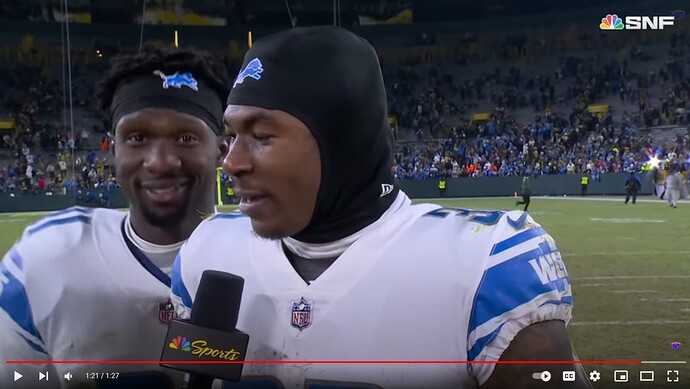 We have sooooo much personality on this team! I'm so happy for these guys and what they accomplished this season. NFL is on notice, this Lions team ain't going away any time soon. Kirby's future is real bright.
Everybody knows he actually picked off Rodgers three times in this game. That penalty was legit, but didn't impact the play. Legend.
Gotta say I loved during the intros for where they went to school and Rodrigo said "Barry Sanders U". That was pretty great.
"The" from Decker got the most laughs at my place.