Legendary Florida State coach Bobby Bowden dead at 91
Hall of Fame coach won more than 350 games and two national championships
Bobby Bowden, the folksy Hall of Fame coach who won more than 350 games and built Florida State into one of college football's great dynasties with two national championships has died. He was 91.
Bobby's son, Terry, confirmed to The Associated Press that his father died at home surrounded by family early Sunday morning. Florida State also announced the news on social media.
"It was truly peaceful," Terry Bowden said in a text message to AP.
Bobby Bowden announced on July 21 he had a terminal illness that Terry Bowden later said was pancreatic cancer. Bobby Bowden had been treated for prostate cancer more than a decade ago.
"I've always tried to serve God's purpose for my life, on and off the field, and I am prepared for what is to come," Bowden said at the time. "My wife, Ann, and our family have been life's greatest blessing. I am at peace."
MARK RICHT, COLLEGE FOOTBALL COACHING GREAT, REVEALS HE'S BATTLING PARKINSON'S
Bowden was hospitalized in October 2020 after testing positive for COVID-19. The test came a few days after he returned to his Tallahassee, Florida, home from a long hospital stay for a leg infection.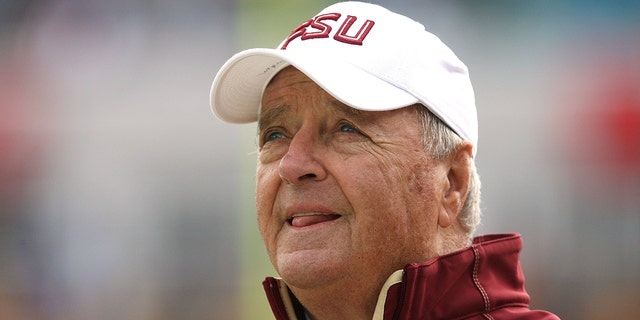 JACKSONVILLE, FL - JANUARY 01: Head coach Bobby Bowden of the Florida State Seminoles watches his team take on the West Virginia Mountaineers during the Konica Minolta Gator Bowl on January 1, 2010 in Jacksonville, Florida. Florida State defeated West Virginia 33-21 in Bobby Bowden's last game as a head coach for the Seminoles. (Photo by Doug Benc/Getty Images) (Getty Images)
With Southern charm and wit, Bowden piled up 377 wins during his 40 years as a major college coach, from tiny Samford — his alma mater, then known as Howard College — to West Virginia and finally at Florida State, where he went 315-98-4. The Seminoles were a force during his 34 seasons as coach, winning 12 Atlantic Coast Conference championships and national titles in 1993 and 1999.
Bowden retired following the 2009 season with a Gator Bowl win over West Virginia in Florida State's 28th straight postseason appearance, a victory that gave him his 33rd consecutive winning season. However, a month after he resigned, the NCAA stripped Florida State of victories in 10 sports because of an academic cheating scandal in 2006 and '07 involving 61 athletes.
Still, only Penn State's Joe Paterno is credited with winning more games as a major college football coach. Bowden's win total ranks fourth across all division in college football history.
Bowden was replaced by his offensive coordinator, Jimbo Fisher, who had been Bowden's replacement-in-waiting.
"He's one of the great human beings that's ever coached and one of the great coaches that's ever coached," Fisher said.
Bowden won the national championship in 1993 with Heisman Trophy-winning quarterback Charlie Ward and again in 1999 with his second Heisman winner, quarterback Chris Weinke, and All-American receiver Peter Warrick.
The Seminoles had a shot at even greater glory, but lost in national title games against Florida, Tennessee and Oklahoma and narrowly missed out on the championship game in several other seasons because of losses to archrival Miami.
Bowden once quipped that his headstone would read, "But he played Miami," a one-liner that came the day after the Hurricanes escaped with a 17-16 win in 1991 when the Seminoles missed a field goal wide right in the final seconds. Miami also won in similar fashion in 2002 when a field-goal try went wide left, much to Bowden's chagrin.
Florida State dominated the ACC under Bowden, winning championships in 12 of its first 14 seasons after joining the league in 1992.
"Bobby Bowden has meant everything to Florida State athletics and so much to college football in general," Florida State athletic director David Coburn said. "He is a part of the heart and soul of FSU, but it goes beyond even that – he is a big part of the history of the game."
Bowden was also the patriarch of college football's most colorful coaching family. Son Tommy Bowden had a 90-49 record at Tulane and Clemson, and son Terry Bowden was 47-17-1 at Auburn. Another son, Jeff, served 13 years coaching wide receivers for his father at Florida State and six seasons as offensive coordinator before he resigned in 2006.
Bobby Bowden left West Virginia to take over a Florida State program in 1976 that had produced just four wins the three previous seasons. The Seminoles went 5-6 in Bowden's first year and never again experienced a losing season under a man who said he prepared for football games like World War II generals prepared for battles.
"You face similar tasks of motivation, preparation, teamwork, discipline," Bowden said. "I probably get the most satisfaction out of putting in the strategies and watching them play out."
By 1979, Bowden had Florida State positioned for an unprecedented run in the annals of college football.
Led by All American nose guard Ron Simmons, the Seminoles enjoyed an 11-0 regular season but lost to Oklahoma in the Orange Bowl. In 1993, despite a late slip at Notre Dame, Florida State won its first national title after nearly getting there in 1987, 1988, 1991 and 1992.
Bowden's lone perfect season came in 1999 when the Seminoles became the first team to go wire-to-wire in The Associated Press rankings, No. 1 from the preseason to finish.
"The first championship was more of a relief," Bowden said. "I think I was able to enjoy the second one a little more."
Success also brought a glaring spotlight and Bowden's program was touched by scandal on a few occasions. The school was put on NCAA probation for five years after several players in 1993 accepted free shoes and other sporting goods from a local store. The episode led former Florida coach Steve Spurrier to dub FSU "Free Shoes University."
Bowden prided himself on adapting to the times and giving players a second chance, but critics said he was soft on discipline with an eye on winning games.
"If short hair and good manners won football games, Army and Navy would play for the national championship every year," Bowden retorted.
Randy Moss, one of the most talented athletes to attend Florida State, never played a down for the Seminoles and was kicked out of school after a redshirt season for smoking marijuana. In 1999, Warrick was caught in a shopping scam that led to his suspension for two games and probably cost him the Heisman Trophy that year.
"There's only about 6 inches that turns that halo into a noose," Bowden was fond of saying during the good days, when he was often called "Saint Bobby" by the Florida State faithful.