The Christian Watson thread has me feeling we should have a Skyy Moore thread.
I really like this kid and I do not feel he's getting enough talk on the board. So let me tell you why I like him.
I'm very confident this kid won't get out of round two. I think he will likely go between late round one and mid round two. I think if this kid had gone to a bigger school he'd be a solid round one prospect. He was very productive at Western Michigan.
Moore had the largest hands of any WR at the combine and he just catches everything thrown his way. Here's his combine workout.
He's drawing comparisons to Stefan Diggs and Golden Tate. His RAS score shows his closest comparison is Golden Tate.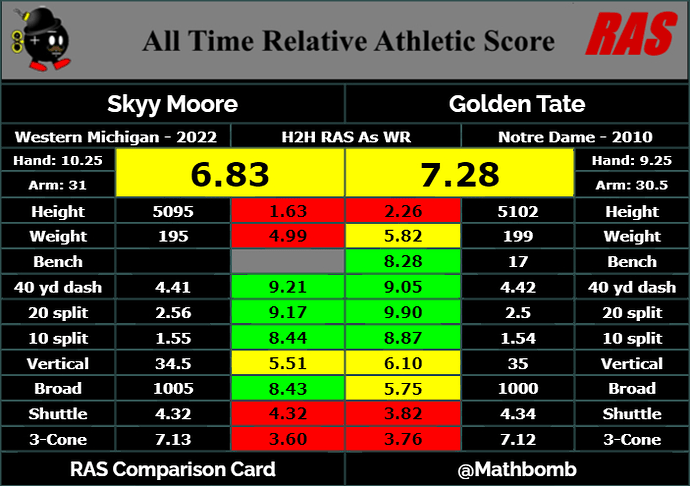 Some facts for you.
His scouting grade is the highest grade of any WR prospect to come out of the MAC in nearly 10 years. He's also the best WR to come from Western Michigan since Greg Jennings.
The Mac Conference has produced a few good WR's over the years like Julian Edelman, Antonio Brown, Willie Snead, Kenny Golladay, and Randy Moss.
He is friends with Mike Tomlin's son and has had the opportunity to work out with the Steelers. Where he received a lot of praise from coaches and players. That's why some people think he won't get past the Steelers pick in round two. (If he even lasts that long) But Moore has made it very clear that he's a Steelers fan and would love to play there.
One last thing. Moore is being praised for his release and route running. He has a step that forces DB's out of position. It's as good as any WR to come out in recent years. This is why he's successful and why he will translate well to the pros. Take a look at it on these clips.
One more that shows off his route running.
Watch this route… this is Devante Adams like… near impossible to defend that.
Look at the separation that his step creates on a deep route. He's really good at faking out defenders.