I told my wife that the Lions have won 5 of their last 6. She's been reading Revelations and Nostradamus ever since.
Unreal. I can't remember them ever being ranked so high. I'm sure it happened a few times right before a monumental and predictable collapse consistent with Lion's lore.
Rankings don't mean much if we don't win the next 4 games.
Lose 1 and the national media will jump off the bandwagon and forget they ever said anything nice about the Lions.
It's a tall task for sure. Needing to win all four with three on the road in outdoor stadiums with the fourth being a divisional game that brings with it our Achilles heal, a running QB.
The only one I'm worried about is the finale at Lambeau Field. Aaron Rodgers is going to be out for revenge after the embarrassment at Ford Field.
One game at a time , next up Jets, big game Goff and staff can make a other statement with a win here, not a easy one but definitely not out of the question. Team is getting healthy and coming together at the right time. I think they beat the Jets. Then on to the next Big Game. This team is impressive after a 1-6 start.
"The young LIONS will overcome the older one, On the field of combat in a single battle" ~Nostradamus
Ok, so I added the "S". but you get the point!
Goff needs to prove he can play outdoors in the weather. He only has 2 TD passes on the road this year. If this team is going to make the playoffs, Goff needs to play out of his mind.
Closer to Armageddon than we think maybe…. Between this and our beloved Lions!
Keep in mind Dan's coaching record with the Lions playing on the road is 2-11-1. Winning the next 3 straight feels fairly optimistic. There seems to be this realistic belief that the team is going to win out… I hope that's right but even getting to 8 or 9 wins is a success.
I think this helps us. The team knows all of this stuff and has a chip on thier shoulder the size of mt Rushmore
I think this is a type-o on a JaMoss article. Lions are the ones threatening with nukes.
The Brand New Lions!
No more SOL
Its now BNL
the majority know this. There will always be a few drunk, angry college kid with keyboards. This is different and has been for nearly 2 years now
Add to that it could be a game determining Packers or Lions into the playoffs. Packers could still make it if they win out and some games go right for them.
Wouldn't that be an interesting game
Lions even got healthier…. while the Jets have several key players out… and a few offensive linemen banged up.
.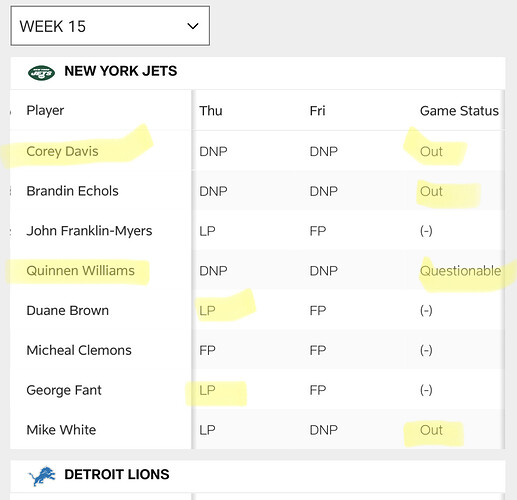 .
Evan Brown is returning this week, and that should help against the Jets tough D line.
As long as Hutch and Ragnow can go….
the Lions are looking good.