I wanted the Lions to draft this guy so bad. Cool seeing him ball out.
well if we drafted Crosby we would have had to have passed on the great Will Harris
I wanted Mark Andrews over Tracy Walker.
Maxx wasn't even that good in college, what would anyone have seen that would have made them want the Lions to draft him?
Him playing well today. Duh.
I wanted Orlando Brown. Crazy how they were both 3rd round gems and both went to the same school.
And they were both drafted by the same team in the same round in the same year.
What's really unreal is that Andrews was the 2nd TE taken by the Ravens in that draft. How in the hell do you win the John Mackey Award and you're not even the first TE taken by your team, much less the rest of the NFL.
Yes he was.
He's was dominating at Eastern. 41 tackles for a loss and 20 sacks. The dude was always in the back field.
He tore it up at the combine if I recall.
I remember a bunch of us discussing him on the board. I recall @coyote12 was a big advocate. So was I but he was drafted sooner than I thought he'd go.
You recall correctly… and his size and numbers may end being similar to another edge rusher in this draft that played in SE Michigan…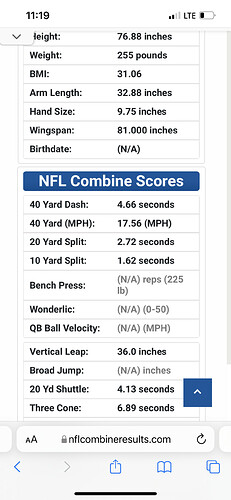 25 sacks in 3 years is good but not dominating. I think Sutton Smith got more talk than Crosby…but maybe I missed it.
I went to high school with Maxx dad a few years ahead of him. One of my best friends is close with Maxx whole family he was at their home when Maxx was drafted. I do know the Lions were one of the first teams to show interest in Maxx pre combine. As for Maxx not being good in college its true Maxx wasn't good in college he was great in college, if he stayed for his senior year he would own about every record for pass rushing at EMU.
Obviously you hadn't seen him play. That guy was always in the backfield wreaking havoc.
There was a great deal of discussion about him on the 247 board. Especially after we brought him in for a visit.
Based on many of your opinions you have miss a lot.
This topic was automatically closed 240 days after the last reply. New replies are no longer allowed.