I liked this article. I'm certainly still a little nervous about him, but hoping he really has a great year.
That's just some Lions "fans".
They still don't like Goff and constantly blame things on him. The latest on, "doesn't get on the same page fast enough". Obviously said in reference to Jamo, ironically.
And let's not forget when Jamo liked a Lamar tweet, then doubled down in another by expressing his feeling on getting Lamar in Detroit. That has to be considered controversial in the locker room.
Just imagine if he did that to Aaron Rogers in GB. That would be a shit show from that tweet on.
I agree with the writer but using Ebron as an example of a player that fans criticized too early is a bad example.
I had a talk with ebrons mom when he was playing in indy. She said that did affect him in his time in detroit. I was driving her to his house when he was hurt. I am an uber driver in the indianapolis market.
Agreed on that part. Nobody should be using Ebron as an example unless it's a negative one.
The biggest problem with Jamo is that he's barely been able to see the field, so theres nothing else to talk about with him. All he needs to do is catch a couple TDs early in the season and all this stuff will fade away.
Dan Campbell has 4 team rules:
(LINK - terrible quality video)
Don't be late

Don't be overweight (no problem for Jamo!)

Don't disrespect your teammates

Don't disrespect the game
The kid just needs to follow those rules, and obviously stay out of trouble off the field, and he'll be just fine. Everyone matures at a different rate. I see Jamo still as "kid-like" but I also remember Penei Sewell's pre-draft video of him yelling "MOM! WHERE"S MY TIE" as a 20 year old kid barely out of high school. Now Sewell is married and is a father.
Point being, Jamo is still a kid, but 1 year from now he could be a completely different man. Life moves pretty fast in a pro sports environment. It will mature you faster but also quickly expose any issues you may have.
Everyone can see Jamo has "attitude". He might have a diva-ish swag to him, but I never saw it in a negative way. i never knew Jamo was criticized for any of it being "bad". I saw excitement, passion, and that good "attitude". I read about his love for the game, patience, working hard, etc.
He did complain on the sideline during the GB game about getting open, and Goff not throwing to him.
I read that Jamo was going to be the first WR taken in the top 10, but he dropped because of the ACL injury. 12 is still very high. Pretty much the same thing.
Here's my take on Jamo. It wasn't a bad trade, but it did cost a lot. And it was very risky because this was a team re-building so the more resources the better. It's obvious they have high hopes for him. When a re-building team trades away resources, and you make that kind of trade, and you take a guy 12th overall, you're banking on him being WR1. You're not banking on a guy who's just some speed downfield threat a one trick pony. You want him to be Justin Jefferson, Davante Adams, etc. So if he isn't at least close to that, it will be a big BH blunder IMO.
I'm not worried about Jamo's skill set. I'm worried that he looks like one hard hit away from going on IR.
As far as Ebron goes. No one hated him when he was drafted. They hated that a TE was drafted. So for fans, expectations were sky high. Like wasting a top 10 pick on a TE he better be everything, and a bag of chips. Especially since he was the 2nd TE picked in the first round by Martin Mayhew.
Ebron was a total "BPA" pick, and MM had a hard on for the Saints. He wanted his Jimmy Graham. Just like BQ wanted his Gronk(and almost traded a first round pick for a washed up Gronk). I think fans would have accepted Ebron had he been an above average player. But he was drafted for being this big guy with "amazing athletic ability" that I never once saw. He looked slow, wasn't elusive, had no quickness, couldn't break tackles, couldn't block, and couldn't catch. He was a bust. Then we all had to see Aaron Donald become one of the greatest defensive players in history. That will always sting.
Kyle Meinke used to piss me of how he would always say "TE is notoriously known for being one of the hardest positions to learn, and that it takes 3 years" like dude no it isn't. Most rookies need time. And I can understand QB, or CB (which is why I still think Okudah can be the guy) but not TE.
Agreed, and let's be honest, every time he touched the ball last season it was a 40-50 yard gain. The speed is there, he's healthy. That was my main concern when we drafted a dude with an ACL tear, would he still be fast, yes is the answer. He should have had 2 more long TD's. One was called back for holding, another Goff just missed him wide open vs the Jets.
I'm expecting a breakout season.
I don't know the back story. Maybe Jackson has been one of Jamo's heroes? I don't know, but, that was a huge gaffe.
Goff is a much better passer. You'd think that would be important to a WR?
I won't be least bit concerned about Jamo unless I find out he ISN'T going out west to work Goff/St. Brown/others.
If he turns down Goff's offer, then yes, I'd be concerned.
I just could not care less about all of this social media stuff. Who cares? If our locker room is so fragile they're gonna fracture over what someone does online, then they aren't who I thought they were.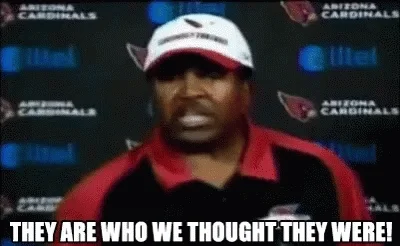 I think "huge" is a mischaracterization. Goff doesn't seem like the type of dude who gets butthurt very easily. Maybe a slight miscalculation, not considering how the media and fans parse every little thing, but a nothingburger in the big scheme of things.
Regarding the back story for Jamo liking Lamar, I suspect very strongly that it has little to do with the Lions roster and a lot to do with supporting a fellow black player in an "us vs. them" solidarity that's mostly players vs. owners, but likely at least a little racially-influenced.
All in all, I tend to agree with what the writer of the article is proposing.
I do get a kind of "Charles Rogers" vibe with him. Not the mental part, just the build. To note that I was in favor of the trade and still am. But those negative waves…
No, that isn't it at all. Jamo had some struggles it has been documented. Goff and he were not connecting because the timing was not there because the practicing was not optimal. Also…Jamo is going to want his qb to take risks deep and trust him to get the ball…we all know Goff is risk adverse…so there are going to be more moments like against Green Bay where goff spiked the ball on pressure but had Jamo wide open and Jamo was clearly pissed and got pulled aside…JAMO needs to be more in control…
I don't have a problem with Jamo wanting the ball thrown his way. If you are going to succeed in this league then you need to have a high level of self belief, and every skill player should want the ball on every play. Randy Moss had an ego. TO had an ego. It's not a bad thing on its own.
Part of the learning curve is controlling that emotion. I think more than anything Jamo wants to lay a marker down and was probably extremely frustrated that his season was so late in starting and didn't explode when it did. That's fine, he's young, enthusiastic and most importantly believes in himself. The relationship with Goff will evolve.
Once he's had a full offseason, camp and preseason he should be full on ready to go, and that's when we can start judging him.
I would have bought that after the first tweet. When he called for Jackson to come to Detroit?
That say's way more. Maybe more than he intended? Hopefully!