It's almost here….
after 3 years since the announcement….
Still 1 more year to go….
revolutionizing the industry so fast……
1 more year until 1 more year until …
No thanks, I like my '94 F150 xlt…that eventually I'll be dropping a 351 Cleveland in to.
Sounds like my Starlink that's a year overdue already.
another update… more bad news….
Pricing from 2019 announcement will adjusted upward… but how much?
.
.
and this writer seems skeptical…
Blockquote

.
then again…. maybe more than another year???
.
.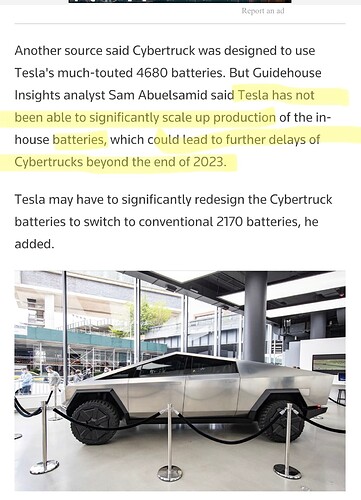 .
.
When Musk announced and hyped the cybertruck…
the stock price worth less than $10 in 2019 based on current share availability… and as he watched the price gain over $300 per share at peak levels… he still couldn't bring a truck to market.
He had time to buy Twitter…
but not get a teuck to market.
That is the most valued auto company in the world???
Mike Lindell must be picking the announcement date.
I was reading about someone with a model x that is 2 months out of warranty and has to spend 20k to replace the battery.
on the plus side it didn't catch on fire.
Y'all know that an Optimus is gonna show up at your house, right? Like a Mormon, except it'll be proselytizing Elon…