What's Lion fans predictions for this season? I do think my Packers will beat you guys at least once lol.
16-1, #1 seed in the playoffs, Super Bowl bound.
Honestly it will be interesting to see how Love does. As he goes so do you. I'm really hoping you get to experience how the rest of the NFL world lives with some bad/mediocre QB play for awhile, but knowing your luck that probably won't happen.
I'm going to say 12-5.
If we beat KC, that changes to 14-3.
20-0 until proven otherwise baby!!
13 wins most, likely.
14 second most likely.
NFC Title game…Not sure after that. Philly is pretty awesome!
In general, we are swimming in the Kool-Aid. Hoping for something that is probably yawn-worthy for Packer fans… playoff wins. Obviously, based on early responses to the thread, many people are expecting it. My heart believes, but my head is putting on the brakes.
Part of me is expecting heartbreak (driven by injuries). But, looking at the team, I think 10-12 wins is VERY feasible. More wins than that are on the table. A lot of the NFC North is either in transition or weaker this year, and I'm hopeful we could ACTUALLY win the division.
Welcome, and hopefully we can have some great discussions as the season gets closer!
I dunno man. Packers haven't had a playoff win since 2010. It might be more exciting for them than you think. That's a fairly long dry spell. Not as long as ours, obviously, but still
12 - 5
Division Champions
Wildcard weekend bye
Win a home playoff game.
=
Syd may just change his moniker and AV.
…ponders Villianious Syd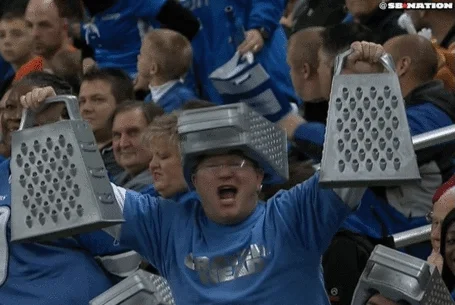 I'm one of the more pessimistic guys around here, and even depressed old me is expecting no less then 10-7.
11-6. 4-2 in the division. Start out 3-3 and then win 8 out of the next 11.
Last year we didn't win a single game in October. In 2021 we didn't win a single game in September, October or November. In 2020 we only won 1 game in December. In 2019 we didn't win a single game in November or December.
I predict we will win 2 games in each month of the season.
It's definitely going to be interesting….
78 PFF…Swift- 950 yards and 8 TDs
73 PFF…Swaggy- 1150 yards and 17 Tds
70 PFF… Hock- 400 yards and 3 tds (with Lions)
70 PFF … Chark- 500 yards and 3 tds
We lost some young vets ages 24-28 LLC who all performed at 70 plus level pff ratings, and replaced them with…
68 PFF… Monty- 1125 yards and 6 tds
60 PFF… M Jones Jr- 500 yards 3 TDs
Gibbs - rookie
Laporta- rookie
We spent some serious capital at #12 and #24, some solid FA capital on GG, Monty and Jones Jr, and I'm not sure we are more talented?
I'd feel better with Swift still here, JSN at #12, a top OL at #34….
I'm very excited about this team, but they seem to have targeted getting rid of Quinn's guys…. Maybe to a fault.
We pitched Okudah, Swift, Hock because they had 1-2 year left, but then spent one year deals on CGJ and Moseley.
If we are evaluating Goff in 23', it might be with lesser nfl talent than be started last year with.
-PS the defense is the key… if Houston can be an 8 sack rotational edge, and Paschal or Comish a 6-8 sack DE who also stuffs the run… then I think our secondary will make plays.
10-7 if we lose to KC… 12-5 if we win that one.
11- 6 seems like a nice blend of checked optimism
Packers taking one from Lions?
Anything can happen
Even the now defunct SOL would beat the Pack every few years — and that pathetically, felt like "the world"
I need that week 2 Seattle win badly. Kind of nervous about it already.
Where did I put that abacus…
Upgrade from both
TE production went up the second he stepped out the door
Not likely to be a 1:1 comparison, because Jamo misses the first 6, but Jamo+Laporta+Gibby+TE currently on roster, etc will replace plenty of that production. IMO, it isn't about the players as much as it is about Ben Johnson.
I have so much faith in that guy. Not even remotely concerned.
I think it is more about getting thier own guys in than getting rid of Quinn's guys. That is how you build contender. Okudah was a fit, but at the price of his contract we can do better. We have lots of guys who will be coming up for renewal in the next couple of years.
Strongly disagree.
They upgraded the entire secondary, as well as more depth and talent in the front 7. Raised the ceiling. Raised teh floor too.
I see an uptick in every area except punter.
Wrong! Fox has been taking extra vitamins this offseason. He hit a deaf janitor with a punt during OTA's, the janitor now has perfect hearing.
You can disagree if you choose to… but I doubt you'd be right with most of it brother.
Do these guys maybe have higher upside? Sure…
Did we expect 1400-1500 total yards a year from Swift when we drafted him? Yes
Did we expect a top 3-4 TE in the league when we drafted Hock? Yes
Did we expect 700-800 yards from Chark(or more) prior to week 1? Yes
Did we expect 600-700 total yards from Swaggy (a year) when we signed him? Yes
it's good to be excited, but even if we get 2300 yards and 25 tds from Monty and Gibbs- we didn't really gain… especially since our short yardage guy averaged 4.1 ypc, and our speed back averaged 5.5 ypc which is great!
All I'm saying is we had a 1,100 yard 17 td back, a guy who was electric when on the field, a 2 time pro bowl TE, and a WR who had made a pro bowl.