OMG.
It can't be the Lions played bad. No, there's a conspiracy. If I don't like what I'm seeing, someone's cheating.
Oh, we've played like shit. Still have a chance to win the game though here. Some very questionable calls though. Bears seemed to have been conveniently bailed out is all. Like an effort was made to keep it closer than the spread.
There were quite a few questionable calls always giving the bears a new set of downs on 3rd down. I agree.
Regardless, we pulled it off. And for as badly as we couldn't stop fields, he stopped himself at the end.
I was waiting for a flag for Hutch punting the ball after the safety to negate the safety and then give the Bears the ball on our 20 though haha
Oh don't worry, he'll be getting a bill from the NFL. A bill I BET the Lions pay for him.
lol I was fully expecting to see a flag negating the fumble there. Then a long PI on us to place them on our 22. That's vintage SOL thinking
I don't think there needs to be a conspiracy to notice how terrible NFL refs are and how the Lions are almost always on the raw side of their incompetence
Refs like us, just talked to Jon about this.
Oh I thought you meant in favor of the Lions! Bears fans would have to think they were screwed as they had the ball for 40 minutes and 4 turnovers and still lost.
The key that I saw was the number of field goals they kicked.
Fields is a good runner and he can throw that deep ball but his game isn't setup for the red zone right now. Compressed space means tighter windows, less holes to run through and no deep ball.
The Bears got all the calls and all the non calls also
This game has me convinced the league is against the Lions
OMG here we go again with the ref thing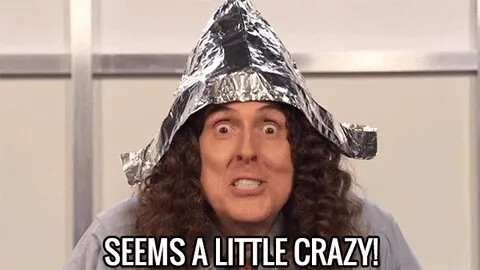 3 interceptions and a lost fumble? They didn't have to rig anything.
Not that they don't, mind you. That's just not the reason this was nearly a loss.
The Lions played poorly on defense, letting Fields manipulate them out of position.
And, the (very) offensive turnovers. Goff had a rough game. It happens. I don't want to trade him, or anything. Just saying. Not his best game.
He knows it.
The worst excuse that there is for anything in life.
The ultimate cop out.
My mistake…I thought Laporta got wiped out on that first INT. I guess I was seeing things. It was a perfectly officiated game.
I would personally love to see an official try and negate a play for an unsportsmanlike conduct penalty after a turnover or safety/score etc. Cant be done, the public would fry the dude and he would be fired real quick. Just saying, after the safety was complete anything post play cant negate the safety but could have moved the kickoff.