I'm already two dipa's in for the night with more dipa's and Eagle Rare to get me through this game.
No one is surviving this one. He's literally capable of doing all of those things multiple times.
Shotgun a 6 pack for every Pretzel Kelly tosses.
If Stafford throws a sidearm pick 6 they will definitely show Kelly, talk about the Lions and bring up his playoff record.
Stafford gonna Stafford and lose . 100% so party on .
I haven't drank in January for 30 years, so I'll be fine. Ooops, looks more like 20 years. I quit every year from Rose Bowl to Super Bowl so technically I do drink in January. Rose Bowl used to be the last college game and SB is the last pro game but they kept moving the SB back.
I look at this and think to myself…"So drink every time Stafford breathes."
Looks like nonsense to me.
Since our last playoff victory, I'm guessing!!
19 years here. I coulda kept up with the Stafford drinking game back in the day, though with those rules I'd need a thimble…
When I bartended we would have drinking games during the Bob Newhart Show. "Hi Bob" was a chug.
I think it's a down on its luck ear of corn that rides the rails.
If we makes it water on the rock!
And I get a pee bucket next to my barstool!
Per Jeff Riger, him or Jim Costa has to do one of these nasty som'bitches live after the game…it's called a Smokers Cough, mayo and Jager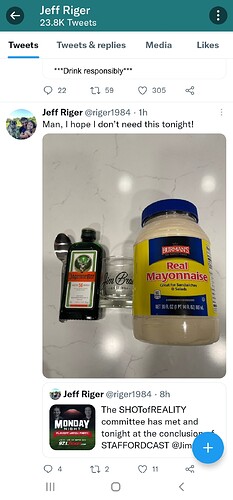 I am laughing, somewhat disturbingly, at how vile that must be. Served at room temp, right?
Pure evil.
Well, that turned out to be a shittastic drinking game…unless your angry he won a playoff game.
Some will be. Oh wait…some ARE