Not bad for a scrap-heap player given up on by a couple of teams.
Sounds good. But what's his record vs winning teams on the road?
LOL
I hadn't looked at his measurables before… but this guy is really athletic for an O lineman.
Check out that 36 inch vertical at >300 pounds.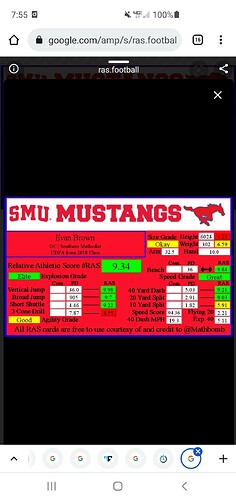 That's pretty remarkable, especially against an Aaron Donald lead D-line.
Maybe he can add a few pounds and replace Vaitai when Ragnow gets back.
That was my first thought as well. If he's this good now, gotta find a place for him on the O-line.
Seems like he's better is Pass Pro than Run. But a good back up to keep. Good for him to make the most of his opportunity.
He just played last Sunday maybe you napped Rams,Bengals an Vikes his last 3 games he stated for Rag He has played well an is very good depth behind Rag.
He is a RFA next season so for a year maybe longer we have him.
Is he the guy who got beat by Donald on the int throw?
Big V has played very well this season an his recorded play proves it.
He is not as costly as you think, anyway he is playing solid as are ROG. You can stop picking him an look for another to pick on.
2022 his cost is 8.4 million thats very good for a starter an his play is worth that easy.
The next 2 seasons 2023 an 2024 its 10.4 million still would be good price for stating ROG if his play falls off in 2022 the cost to release him would be very little. 2.8 million.
He has been very good this season.
Lets state what everyone is thinking… this is why you dont take a center in round 1… you can find one off the couch…
When that guy is an all pro…I'm good w/ it
I used to have a 36 inch vertical at 300lbs. Polk High Football.
Oh really. How "costly" do you think I think he is? LOL
You always think you know what everyone else thinks, it's cute…but wrong a lot of the time.
Vaitai has played better at OG than OT but he's far from "played very well this season".
58.4 PFF grade is not that good for 9 million a year, not when you have an out in 2022 and someone who might be better on the bench making 1/10th what Vaitai is making.
Halapoulivaati Vaitai signed a 5 year, $45,000,000 contract with the Detroit Lions, including a $7,000,000 signing bonus, $20,000,000 guaranteed, and an average annual salary of $9,000,000. In 2021, Vaitai will earn a base salary of $9,000,000, while carrying a cap hit of $10,400,000 and a dead cap value of $14,600,000.
CONTRACT TERMS:5 yr(s) / $45,000,000 SIGNING BONUS$7,000,000 AVERAGE SALARY$9,000,000 GTD AT SIGN:$20,000,000 TOTAL GTD:$20,000,000 FREE AGENT:2025 / UFA
BONUS BREAKDOWN CAP DETAILS CASH DETAILS
YEAR AGE BASE SALARY SIGNING WORKOUT CAP HIT DEAD CAP YEARLY CASH
2020

27 $4,000,000 $1,400,000 - $5,400,000 $20,000,000 $11,052,375($11,052,375)
2021

28 $9,000,000 $1,400,000 - $10,400,000 $14,600,000 $9,000,000($20,052,375)
POTENTIAL OUT: 2022 , 2 YR, $20,052,375; $4,200,000 DEAD CAP
2022

29 $6,500,000 $1,400,000 $500,000 $8,400,000 $4,200,000 $7,000,000($27,052,375)
2023

30 $8,900,000 $1,400,000 $100,000 $10,400,000 $2,800,000 $9,000,000($36,052,375)
2024

31 $8,900,000 $1,400,000 $100,000 $10,400,000 $1,400,000 $9,000,000($45,052,375)
It was, is, and always will be a terrible contract. I'm glad he's playing well at G, but that's not where we signed him to play.
Guard is one of the most replaceable positions in football. You can typically plug and play mid rounders as well as cheap vets without a huge drop off unless your talking about the zack Martins and quenton Nelson's of the world. Big V is very replaceable with that contract. He should be making no more then 4-5mil a year for his level of play and he is doubling that. He either takes a pay cut or he is gone next year, IMO.
Yeah, unless somehow Vaitai all of a sudden becomes a much better player than what he's being paid.
He was good against LA…but not as good some of the other games.