Breach of fiduciary duty the way this one's been called.
Nope. It's on me. My fault.
I dared to believe. I should know better by now.
That pick, I was seriously calling it out. It was coming any moment. You could feel it.
Whoever bought a blue mask, it's their fault
Definitely have to temper expectations with this team.
Out-coached
Out-schemed
Out-executed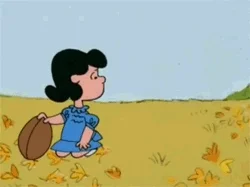 Playing for the FG at the end of regulation was a huge mistake. You settle for a coin toss, and you might never get the ball back in OT.
Conservative play calling at the end of regulation playing for the tie, and Glenn's lack of drawing up any pressure on 3rd down lost it. Sorry guys this team is notorious for putting together a good game and then shitting the bed the next. It is what it is. When you play not to lose instead of playing to win you usually end up losing. Hey, at least were consistent
Dan made it closer than in needed to be in the first half, IMO.
I'm pretty open about allowing coaches leeway with their strategies before criticizing them, but sometimes a 4th down is the end of a drive. Live with it.
Not playing to win at the end of the game was a atrocious decision. Especially considering what your D does against Seattle. His faith in AG will be his downfall. If things don't change. Hopefully, Holmes forces his hand here.
For not firing his buddy Aaron, it is on Dan. And for passing on Jalen Carter…
You just described SOL…but I thought this was BNL?!
I promise you've never heard me say anything to the contrary. I always take the "show it to me" approach. Never just buy into the hype of anything.
Drafting a one dimensional RB at 12th overall was always a questionable decision. Gibbs better be Kamara equivalent to even justify it a little.
Really? That's what you got out of this?
He's exactly what you saw today. Why I've been rather livid since the draft.
I agree a hundred percent . And why with three time outs do u let the clock run down to 34 seconds before you use one . They played not to lose at the end and it killed them.
L is on Dan 100%. Stop going for it. We had the game under control and it changed everything. It's the most inexcusable thing you can do as a coach. Let your players decide games not your reckless dumb decisions. We are good now, we don't need it anymore.
It's just not what wins in this league. Look at the last 2 Superbowl winners. RBs were far from team strengths.
Yeah i never got the Gibbs love. I rewatched his highlights agsinst Texas after Holmes talked up falling in love with him after that game and i didnt see anything worth the 12th pick for a RB. Sure he is fast, but he is still a gadget player.