The vikes need to lose!!!
I don't care about the other two
That is all!!
I understand the conflict with college and Saturday TV ratings, but man the NFL hits different on a Saturday. It'd be nice to have them extend these out to a few more of the earlier weeks.
I agree, but it's not gonna happen. The NCAA and the NFL seem to have a deal in place to stay out of each others way with scheduling.
Reasons for a vike lose…?!
we stay in chase for the Division Title
they are a division rival
if would be simply awesome!!
And ….
The hype all the way up to our game tomorrow would be crazy!
Would you rather
A. Watch a random college game
B. Watch a random NFL game
@Mongoose - Typically random college game, because they tend to be more exciting and the crowd atmosphere is better. You are rarely going to see a 10-3 college game, but you will find that in an NFL game, especially one involving the Broncos.
My kid and I were discussing this weekend's "wish list" for games. We got an early one with the Seattle loss. For todays games: Minnesota loss, Baltimore win, Buffalo win. Last 2 games have no Lions or draft impact, so it's just personal at that point.
For tomorrow's games: Lions win, Chicago win (hurts Chicago's draft stock), Denver win (hurts Seattle's draft stock), Giants win (Giants have tougher schedule and more likely to lose down the stretch), Green Bay win (helps Lions draft pick).
A Vikings loss could make a slight difference in our beans, but I prefer that they win today. I'm going to concede that they'll win the division championship, and I want them to be fully engaged to preserve their playoff position against the Giants next week. Beating the Giants helps our path to the playoffs and makes the Vikings more likely as our first round opponent–the softest one we could get.
C. Watch a good college b'ball game
I prefer this sometimes: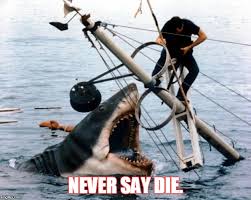 After seeing the 1st quarter of the Vikings game, maybe conceding isn't a very good idea…
One day at a time brother!!
Oh well!! Fun game even if they didn't lose
Have a tall drink of CHOKE Vikings !!