Hope he can make it back by season start:
Same situation as Romeo Okwara. Signed that contract extension and then bam.
I fully expect us to replace Tracy in the draft this year. Unfortunate, but that's how it goes
I think they're going to bring Elliot back as insurance against Walker's injury, but Walker is still part of the plan. He was a "their type of Lion" when they re-upped him.
JKerb, Walker, Elliot and Iffy are my projected 4 safeties for the 23 season, with a little bit of camp competition for Iffy and CJ Moore.
Add Safety to the list of players that will not be taken in the 1st 3 rounds UNLESS he's someone they project playing NB or being that 3rd safety on the field.
I'd be shocked if Tracey didn't start the year on PUP
It is good to hear that his recovery is coming along so nicely. It also brings me to a point that I believe some people have forgotten him. I keep reading how the Lions need to bring in a veteran DB to help in the secondary. Well folks they do a veteran presence in the secondary and his name is Tracy Walker. Now if they bring back Elliott that provides two veteran players in the DB room. Not sure why some believe the Lions need to add another one.
Prepare yourself! LOL
Okudah had a 2021 week 1 injury.
Okwara had a 2021 week 4 injury.
Walker had a 2022 week 3 injury.
I'm not saying definitively one way or the other, but my own expectation is an Okudah-like return where he's not on PUP to start camp.
Good to see progress…
but I also can't believe when articles get posted and they can't even do enough homework to get the injury correct.
Walker tore his Achilles…. but they wrote "ACL"…

.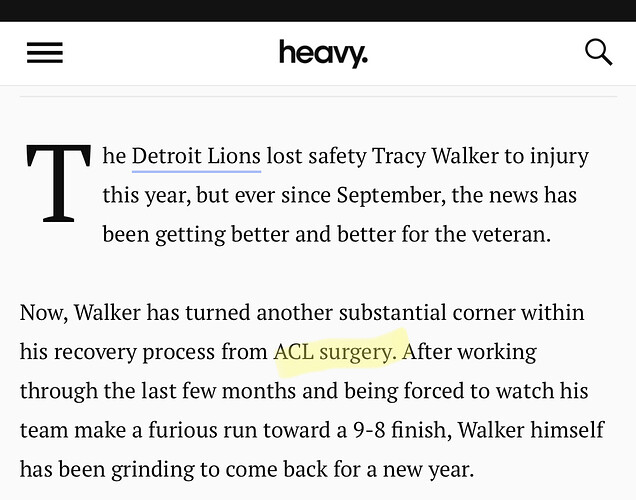 I expect iffy to make a bit of a jump, considering it is year two.of the position change and with his athletic profile. I would still bring back elliot if the price is right and whatever walker provides, if he can retake his starting role great run some heavy nickel packages with elliot and iffy in the box or tracking tight ends.
Journalism in the 21st century.
When a "Sensationalist" tries his hand at "Journalism".
Well Safety isn't necessarily a position you need to draft in the Top 56 picks (our first four).
Tracey Walker round 3
Kerby round 3
Will Harris round 3
Iffy round 3
sheesh what a track record there. All late round 3 picks too.
Also:
Duron Harmon late 3
Tavon Wilson late 2
Jayron Kearse round 6
Quandre Diggs round 6
Deshon Elliott round 6
We will be drafting a Safety in this draft. Regardless of what happens with Deshon Elliott.
If this guy can grow & develop, our situation looks a TON better.
I expect him to have a breakout season in 23. He has the tools, now his body needs to cooperate!
I agree. I really think him & Mitchell could both step up. Great measurables…great mentors…great culture, etc.
Yeah, but you probably gotta anyway. They need one more safety, even if he's healthy
I sure hope you're right. We just have no idea. Everyone recovers differently. It's an extremely serious injury. Some players never make it back at all. Wishing Walker the best.
All signs are pointing up at this time.
I don't question him being on the 53-man roster week 1. I'm all but certain it will be so.
The biggest question is how we reload at DB. Do we add more youth to a young S corp (Walker, Iffy, JKerb) that has a filled depth chart, or do we add to a CB group that is stocked at about 50% right now?
Or do we throw need out the window entirely?
It's been about 70% return rate in recent history. I'm very hopeful on Walker, but I think Holmes will be prepared for him to start on PUP. That's why bringing Elliot back is important IMO. Veteran insurance at safety. On average 340 days to return for the 70% that made it back.
You and I are 100% on the same page here, as with Chark. Finding a guy that resonated with the team and then making no significant attempt to bring him back is very Bob Quinnish.
I can't wait to see who they return to the team.