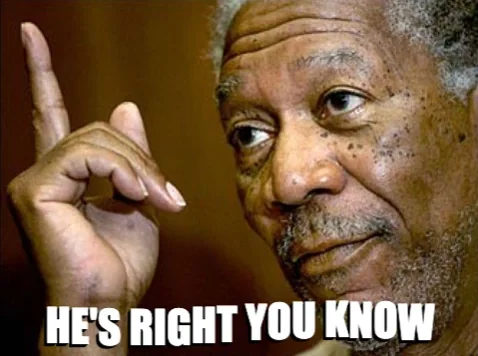 I'm sure colvinforprez would agree.
Fair enough, except the Lions are fine with an afternoon of boat racing.
Goff gets a mulligan for that game.
And the defense, well. I mean, it's halfway and there's plenty of room to grow. I think they'll get better.
This is dead on.
Serious contenders don't lose to teams like the Chicago Bears at home. We could have been 8-2, and only a half game out of the lead for the best record in the conference if we would have just won that game.
Now the Bears on the other hand? Thats what a serious contender looks like.
Some people are looking at Detroit like we did Minny last year, but we're not the same as that team.
Yes, we could lose the first game in the playoff, so could Philly or SF, or every single team.
But if they can get the 1 seed, or even 2 seed they have a punchers chance.
Betting against the Lions is not the safest bet anymore.
The Lions put up 115 rushing yard against the #2 rush defense.
The out gained the Bears despite being dominated in TOP by 2-1.
I think the Lions were #1 in TOP before this game so that is not the norm.
Oh, Lions out scored them too.
It was an unusual game from a turnovers standpoint.
A fumbled kickoff return? That doesn't happen very often.
Three INTs by Goff? First time in a Lions uniform.
I mean can we agree that everything went wrong for the Lions and they won?
They outgained a team that had the ball 20 more minutes in a game. That seems almost impossible.
The Lions played maybe a C- game and won…and we are all now convinced this proves they suck?
The question is this.
What would you give the Lions as a grade for that game based on what you have seen them do the past 20 games? That should be the question. If that was an A then yes they are in trouble. If it was a C or less then how does that make you think their A game can not win in the Playoffs? Listen all of us positive folks know that if the Lions do not play their A game in the playoffs they will lose. And they might play an A game a lose. No shame in that. Make the other team beat your best.
And let me add this. I feel like the Lions have had A game Defense and A game Offense. But I do not feel like that have had an A game in all 3 phases yet. So that is either a huge concern or a good sign that they have plenty left in the tank.
Yea but KC lost to Denver.
Barley beat the MIN and NYJ.
And BAL lost to CLE and PIT. With no QB.
Philly lost to the Jets. Almost lost to the commys 2x!
SF lost to the browns and vikings.
Dallas lost to the cards.
We can do this all day everyday.
People want to point out that the Lions barely won some games and lost to BAL and SEA.
But dont point out all the double digit wins.
A W is a W in the NFL. Period.
Based on this article the only TRUE contender is PHI. Everyone else is a fraud.
So who is a contender?
Chiefs - have lost to Lions and Denver
Ravens - lost to Colts, Browns, and Steelers
Miami- lost to Bills, Philly, and Chiefs
Jags - lost to S.F., Chiefs, and Texans
Philly - lost to the Jets
Dallas - lost to Arizona, Philly, S.F.
S.F. - lost to Bengals, Browns, and Vikings
Lions - lost to Seahawks and Ravens
Point is teams often lose to teams that they shouldn't
When the Eagles lost Carson Wentz, they showed they weren't serious contenders. Same with Trent Green/Kurt Warner.
I don't know how this is going to end, but the Lions ABSOLUTELY have a chance.
Whether it's small or large is for you to debate. But it's a CHANCE.
Doubt. Please doubt. Just will make it sweeter.
Anything can happen once you get in the tournament. See the Rams gilded path to win the Super Bowl when the stars aligned in2021.
But IMHO, the defense will need to massively improve and the OL will have to be healthy over the next 7 games to achieve more than what I consider to be a successful season: Win the NFC North, host a playoff game and win it. Of course, I'd like some gravy with that…
We're 16-4 of our last 20, and there have been no "losing streaks", we're not in a "losing streak".
■■■■ those Yahoos!
What would our record be if we had gotten Chase Young at the trade deadline?
At best, 8-2.
Agree with what everyone is saying: the media looks at the Lions differently than any of the other contenders. When SF lost three in a row, the narrative was "they'll be fine, it's just a bad performance." When Detroit ALMOST lose, the Lions reveal their true identity. Hearing it on the national tv shows as well.
Some in national media are waiting for us to return to our normal state—the perennial losers. We're not part of the NFL blue bloods. We are interlopers and should be revealed as such.
We don't get the benefit of the doubt. We can't have a bad day and still be thought of as a good team. Case in point: the Dolphins hang on to beat the Raiders at home by 7 yesterday and no one says anything about their performance.
I don't think we get boat raced in any playoff game at home. In fact I don't think we get boat raced at all in the playoffs. Our offense is too good and it means too much to us.
I noticed that too and thought to myself–what happened to the offensive juggernaut that scored 70 on the Broncos?
It will never change until they win in the playoffs. That's when the media will finally shift.
No, it proves that they're not going to the Super Bowl, which is the point made in the video.
Right, and if Philly comes out tonight, and gets curb stomped, they won't be serious contenders either. So who does that leave?
I don't consider us favorites, but we are contenders. Our record tells us so.