Enjoyed the list of potential breakout stars discussed, included TE Mitchell as it should.
For the most part I'd say we learned very little. 90% of it's fluff we already know and the rest is writers trying to create content out of a handful of plays, from far away, with players who aren't going full speed and aren't in pads.
Plus as JJ Watt says, OTA and minicamp is for experimenting. A guy could look awful because he's trying out a new move, etc… Schemes could look awful while we work out the kinks. Guys could flash because of the small sample size.
Here's an article from last year's OTAs declaring Will Harris the big winner:
But we're all football junkies and can't read enough about our boys in Honolulu blue.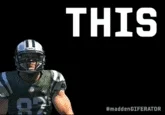 We learned that our team is in good spirits and filled with justified confidence.
That, all by itself is pretty great, but yeah, we don't know much else.
This topic was automatically closed 90 days after the last reply. New replies are no longer allowed.