With the announcement of the retirement of John Penisini, who do you think makes our final roster for our D-linemen?
Hutch, Harris, ROkwara
Levi, Paschal
McNeil, Brockers
JOkwara, Houston (I'm slotting these two guys here because they're both participating in Sheppard's LB training, too.
I think that leaves 1 open spot for:
Cominsky, Bryant, Cornell, Hector, Banks, Taylor or Patrick
I would assume it's going to be one of the larger-bodied guys that can handle interior DL snaps. If I had to pick a name, it'd be Cominsky.
Didn't we carry 11 DL last year?
I agree with this list but I counted 9, so if they go 11 again that could be Cominsky and Cornell
Paschal has a real issue with a torn groin or something, so he may not factor in to anything for a while.
Cornell is in for sure, along with another teams cut we probably have an eye on.
DT Starters: Michael Brockers, Alim McNeill
Depth: Levi Onwuzurike ,Jashon Cornell, John Cominsky
Edge defenders
Starters: Aidan Hutchinson, Romeo Okwara
Depth: Charles Harris ,Josh Paschal, Julian Okwara
Its possible if Paschal is hurt real bad he could go on pup . I am thinking all healthy am get to first game ok.
Julian an Hudson will also play some LB like Sam
Linebackers
Starters: Derrick Barnes, Alex Anzalone
Depth: James Houston, Malcolm Rodriguez, Chris Board
I think 3 backups make it besides LB play they are very good ST. Board was real good for Ravens an rookie pic Rodriguez was tackling machine in school they both also are not slow.
Houston an Julian will also play like rush edge also along with ST
Yeah, I'm figuring 10 instead of 11, with that last spot being up for grabs.
Where'd you hear that? I've only read lower extremity injury. That doesn't sound like a groin to me.
.
Since he had this injury before the bowl game… and still posted a 9.09 RAS score with elite vertical and broad jumps…. I am really impressed… and also not too worried about the severity of the injury.
Also explains why he didn't do the 3-cone and SS at the combine.
.
.
.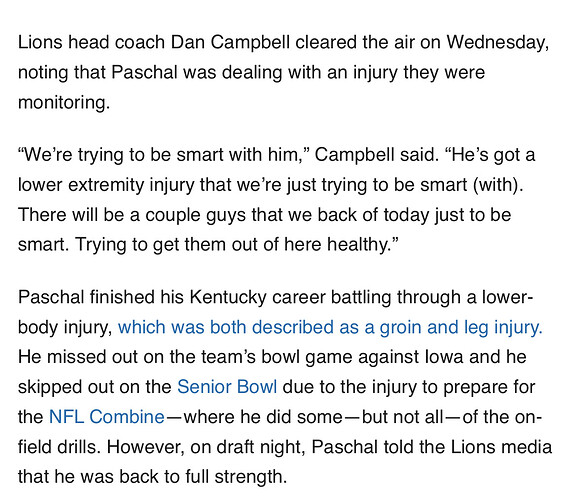 Hopefully we're not counting on Comisky and Cornell to be defensive tackles when they're best suited to play defensive end
He will be fine at DT roster says he is 297 i will bet right now he is crowding 310 an he is 6';3
Cornell says his best position is at DT as a 3-tech, I guess we'll see if he offers anything there. I'd think his best spot as a 5-tech DE but he lacks the length.