…where 3 FGs went differently. Would you be happier with Daniel Allen Campbell and friends?
They would suck at tanking in that case, wouldn't they? We'd be picking outside the top 5 and getting some B rate DE or QB.
We'd be 3-6 with this guy…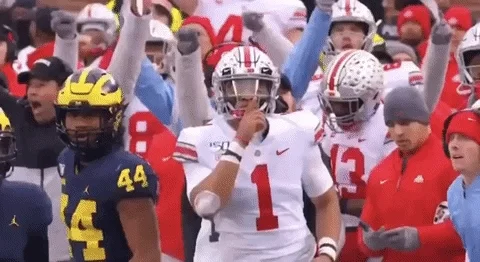 Change my mind
(Also take that Michigan fans!)
This the same parallel universe where we beat Dallas in the 2014 playoffs but the officials worked fucking overtime to steal it?
So the Lions roster is better than the Bears roster? That's the hill you want to die on?
I'm telling you our offensive line is better than theirs and our running game is better than theirs.
So we are better than the Bears?
Fields has started 8 games, thrown for over 200 yards only twice with Allen Robinson, Darnell Mooney, and Marquise Goodwin. Two of those games he threw under 100 yards.
And Goff has only thrown under 200 yards in one game in the rain with WR's nobody other than Lion's fans can name.
Unless Fields can kick FG's or play defense, we'd probably be worse off right now.
I've seen nothing from Fields that changes my initial impression. I would have passed on him in the 2nd round as well. He just isn't an NFL caliber QB IMO. I still think there is a much higher chance he'll be out of the league in 4-5 years vs being a good QB.
Mac Jones, on the other hand, is another discussion.
Whoa whoa whoa….let's not just assume I can name any of our WRs here
If we could ever get fully healthy with the entire o-line together, and both J-Will and Swift, you might be right. The Lions offense actually has about 8 starting spots filled for next year. The problem is the 3 empty spots are at very important positions that are QB#1, WR#1, and WR#2.
Imagine how dangerous the running game would be if we had any threat of a passing game.
No, Fields would have made the plays this year that Goff has been unable to make. We have been in a number of games this year.
We'd be 3-6 with Stafford and people would be talking about how not good he is for being 3-6.
At least with Fields we'd have something to look forward to.
I'm not sold on Fields yet at all, I saw some glimpses of potential vs the Steelers on MNF though. But, I do appreciate a QB that can keep the chains moving with his feet. If you're going to have young, inexperienced, tiny WR's like we do, you had better have a QB than can take off and run when no one is open. That's one of the main problems with Goff, a strong wind blows him over in the pocket. You can hide some talent issues with a dual threat QB.
Bears O line is garbage for pass blocking.
And the play calling is horrific in passing game.
But…
Bears have 5th ranked rush offense, and 7th in ypc.
The Lions rank 20th in rushing and 13th in ypc.
Bears ran for 123, 188, and 143 yards in their 3 wins.
I give Fields some credit for that with his running, but Bears also ran for 134 yards against Rams in wee k 1 when Fields barely played.
As for the other side of ball…
In the Bears' 3 wins… the defense allowed a TOTAL of 40 points… with a max of 17 in one game.
Bears had 7 takeaways in those 3 games as well.
I would guess you know that I really like Fields' potential by now… but I think the Bears defense has to get a lot of the credit for those wins.
I feel like this is an unnecessary rabbit hole. If you replace Goff with Fields this season do we win a game or two or three. I say yes, we do. Its not I think Justin Fields is great right now, he's learning (and I do think eventually he'll be a premier QB), instead its Goff has been an absolutely terrible QB for us. Worm burning throws, taking too long in the pocket, no ability to scramble. Fields, even with all of his inexperience, would probably have gotten us one win by now. Maybe 3? Goff is playing like a rookie with the fumbles, running out of his protections, bad throws, late reads etc.
I don't care for Fields either, but if I had to pick between He or Goff??? It's Justin every time !
Goff has mental issues or some chit , he thinks 4 yard throws are just awesome, but he can't complete a pass half the time, I don't know what he's doing when trying to read defenses, or our WR's. and he throws to WR's that have no idea the football was coming their way…
Fields is currently not better than 3-6 with the Bears. So are we saying we are better than the Bears?
It would be hard to find someone that wouldn't take Fields over Goff today given what we have seen.
Problem is…we can't undo what is done.
So who cares.
Can we remember that when it comes to other picks like Okudah?