Thank goodness, we don't have to worry about that, anymore.
It is nice to see players talking about how they want to be here and see what is being built.
A football team, being run by football men. It has been s long time coming for us fans
Didn't Buggs and Dalvin Tomlinson play together at Bama for a couple years?
AShawn might have overlapped in there too for a year ?
Bring the Bama band back together
Dalvin Tomlinson is my DT that I want them to get in FA
Good move!! Pretty cheap deal, Buggs is good depth and can start if needed. Seems like a good locker room guy as well.
That block he made after Cominsky forced the fumble against Green Bay was a thing of beauty. Buggs had complete understanding of everything that was going on around him. Even managed to straddle the ball so he wouldn't touch it while going out of bounds. Great signing in my opinion.
I have to admit that I'm while I'm not particularly excited about this, I'm not upset about it either. I like the guy as a person, but am not yet sold on his abilities on the field. His primary job is serving as a run defender and our run D largely struggled last year.
Having said that, we would have said this about a lot of guys after their 1st year in Campbell's systems. There's a lot of guys that showed significant improvement in year 2. They must think Buggs can be one of those guys.
Edit - Additionally, the defense played significantly better in the 2nd half of the season compared to the 1st half last year. Buggs may be one of the guys they saw great improvement out of.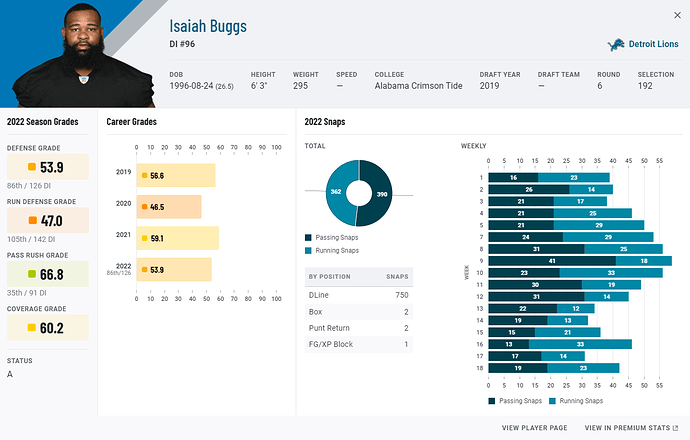 We actually did pretty good against runningbacks. Our overall rushing yards total is skewed due to not being able to stop quarterbacks from running. We gave up less than 100 total runningback rushing yards in 10 out of our final 11 games.
Bingo! By far the worst defense in the nfl at stopping QB runs.
True, there was significant improvement as the year went on.
The Lions D still finished 28th in rushing yards allowed, but that metric is skewed. If you look at the 1st 1/2 and 2nd 1/2 of the season it's night and day.
That's specifically why I'm not angry or upset in the slightest about this. I'm confident in Campbell's and Holmes' to judge talent here.
It's a small deal with little to no downside. Hoping for good things from Buggs.
Here's a weekly breakdown that might be a bit more insightful regarding some of the stuff we're thinking about here: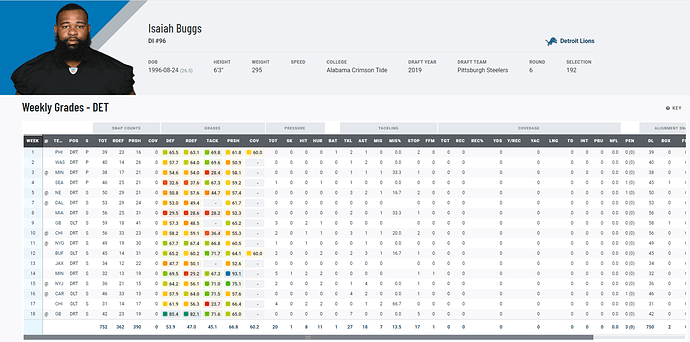 That this was the first signing is very important. Buggs was a vocal leader on the defense the 2nd half of the year when they showed improvement. To reward him is significant. I was listening to nfl radio a few days ago and buggs came up on a list of defense tackles usuage time on field. He was near the top last year on playing time for dt's.
Great structure. If he plays a lot of snaps he makes more money. If we upgrade the DT spot and Buggs is a rotational player he makes less.
Depends on what the exact playing time incentives are, but his 2023 cap hit will be $1.7M at a minimum and $2.3M at a maximum, I'd guess $2M 2023 cap hit.
Love this move. Felt like other then Comminsky, Biggs improved more then anyone as the year went on.
The more information and interviews that come out, the more I love this signing. Buggs was the one that called the players only meeting that coincided with the defensive turnaround.
He also keeps saying something that is interesting, and is probably a view into who he is as a person. Alot of players say that fans have no idea who they are, they only think they do. Buggs keeps saying the opposite. He says people are well informed, and sometimes know more about the player than the player knows about himself.