Reminds me of Natrone Means
That's a name I haven't thought about in a while.
I was thinking CJ Anderson… but Natrone was a human bowling ball as well.
Take a look at the height/weight of the RBs that have been associated with Holmes, MCDC, and Duce Staley himself. They seem to have a "thing" when it comes to RB size.







Sanders was listed at 215 pounds coming out of Penn State.
.
And then Duce… 5'11" and 220 pounds.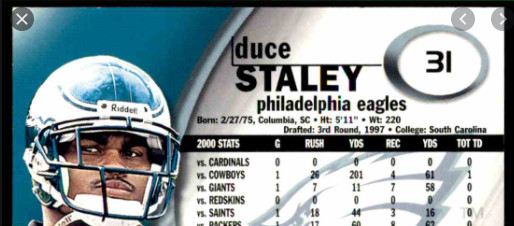 They certainly do have a type.
Swift is 5'8" and 212+ pounds.
Jamaal Williams is 6'0" and 213+ pounds.
Here is an interesting site for 2020 RB draft rankings. They had Warren ranked between Akers and James Robinson… so hope they are right on that thinking! On the other hand… they had Swift ranked #5 behind Dobbins, Taylor, Z. Moss, and CEH.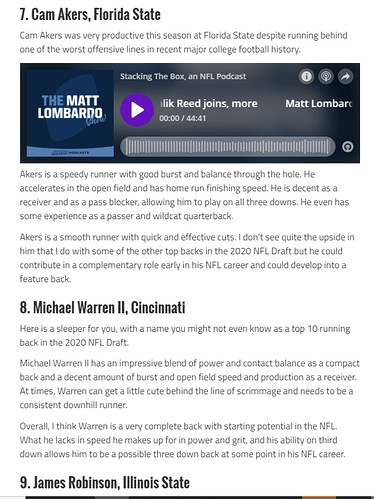 Here is another site with analysis prior to 2020 draft.
ANALYST'S REPORTS

Marino

Crabbs

Vision - His start/stop ability is amplified by anticipation of gap shooters and penetration, allowing him to jitterbug his way through traffic or brace for contact and break would be tackle challenges. I like him best on potential inside zone concepts to capitalize on his foot quickness.

Feet/COD - He's swift with his cuts, surprisingly fluid for a big boy and does really well to snap himself back into a balanced position and continue to press up the field. He's more quick than fast but his short area agility is an asset that he's weaponized and helps him to bust big runs.

Durability - High volume runner who has taken on the feature role over the last two seasons at Cincinnati and not looked back. Should be considered a potential emergency feature back, although his 3rd down skills are only modest and ideally he's spelled there. He's willing to challenge and punish tacklers.

Balance - Contact balance is sufficient and because of his aggressive run style he's often the one delivering the blow instead of taking body shots. His step frequency keeps him ready to deliver contact as needed before falling forward and he strings cuts together effectively.

Pass Protection - He can be late to process and has visibly gotten his wires crossed on more than one occasion. As a result, his third down value is compromised; although there is plenty of room for improvement in this regard and no reason why he can't improve based upon his physical stature and natural leverage.

Elusiveness - Slippery dude. He will jitterbug through angles but then drop the hammer when he's finally forced to square you up; which allows him to keep defenders off balance and not fully prepared for whether he's going to go finesse or power. His long speed is sub-par and a vacant space in his game.

Receiving Skills - Effective hands catcher, has caught several balls on tape over the shoulder as a leak target up the seam against linebackers. Production as a receiver is good but ability to stay on the field on third downs isn't really going to be a frequent role without improvement in protections.

Short Yardage - He has the ability to stick his foot in the ground and lean into the pile; encouraging too that he will stay squatted behind his line and is difficult for linebackers to pick up on the second level if he's patient to press into the LOS.

Football IQ - Needs to develop some better habits; he's almost too aggressive for his own good at times. His pass protection resume is lacking and a sore spot that may hang him up as he attempts to work onto the field early in his pro career. That all said, he's a natural playmaker who can pick his way through defenders.

Effort - Lapses in his play are by no account of poor effort. He's an assertive runner and will not be one to leave yards on the field by ducking out of bounds or avoiding hits. Hustle in protection to recover and position to bail out his quarterback is admirable, even if results are disappointing.

---

Best Trait - Elusiveness

Worst Trait - Pass Protection

Best Film - Memphis (2019)

Worst Film - Ohio State (2019)

Red Flags - None

Summary - Michael Warren projects as a potential lead back in a rotational stable in the NFL. Warren offers viable pass catching skills on swing routes and when isolated against linebackers and his foot quickness will allow him to produce broken angles in pursuit and be an effective zone runner on inside runs. He lacks the long speed to be a home run hitter, yet Warren's rushing skill and play making should warrant a chance at some point to take sizable snaps. Possible low-end starter.
"Willing to challenge and punish tacklers"… bolded that comment for @BigNatty
This is another signing that doesn't grab headlines… but seems to make sense.
He fits what they want. He may not ever be a 3 down RB… but seems like he could serve a role.
Means was 250 I believe. And when you watch his college highlights he looks more sudden than Warren as well. To me Warren is a JAG.
Penny was way more of a home run threat but not as powerful
Top of my head comp… Jeremy Hill. Hill was more talented but he was a knucklehead.
With his lack of long speed… that is true.
I think a majority of NFL RBs are JAGs… but I am in favor of having 215-225 pound RBs with lower center of gravity… rather than RBs that lack power and contact balance. Dalvin Cook ran for 1557 yards in 2020… and had only 6 runs over 20 yards. Not saying Cook doesn't have long speed… just making the point that long runs are not that common.
Even if they end up cutting him and can stash him on the PS… I like the move.
What's funny is the talent at the position now vs decades ago. There are 3rd string JAGS in today's NFL that would have been main starters in the 80s and prior.
Man these guys are getting my type backs love guys like this .These type builds is what id be drafting shorter backs with powerful lower bodys .Guys that change change direction and arent arm tackled easily .Love it loved the swift pick.
Poor man's Rashaad Penny.
I LOVED Penny coming out of school so I'm:
A:) not a very good talent evaluator B:) probably biased when discussing his skill set.
Humans are getting bigger, faster and stronger, that's for sure. Better athletes.
Me too. I thought for a moment we were going to pick him up as a FA and recreate the Penny/Bawden magic. Not to be… FWIW Penny was a 4.46 guy and Warren ran a 4.49, so I don't think there is as big of a long speed gap as you'd think.
I didn't see a 40 time earlier today when I looked for info on Warren… but I find that 4.49 surprising.
Jermar Jefferson appears to have much better long speed, but only ran mid-4.5 range.
Penny was a stud kick returner. Big time football long speed. I don't really buy that Warren time either but I don't really care. On the field Penny consistently pulled away from guys. Warren not as much.