It was heartbreaking. Had we won, I'm almost sure we would had lost to Washington in RFK the following week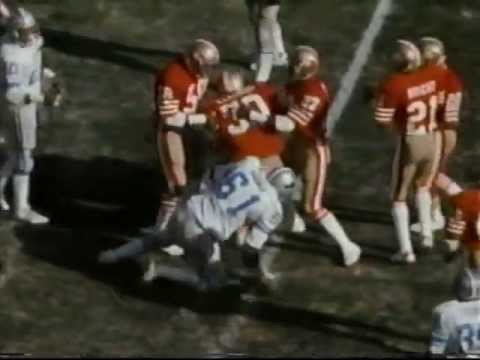 "Down 14-3 and after 4 first half interceptions by Danielson, the Lions turned it over to Billy Sims, who ran off a 58 yard gallop that set up one of three Eddie Murray Field goals"
They tackled him at the 2 or the 1…and they kicked a FG?
Why is Danielson throwing the ball at all? BILLY SIMS!!!
I'm not blaming Murray here…this was the coach and Danielsuck.
After SF took the lead lead 24-23, with 1:25 seconds on the clock, the good guys move the ball in scoring position setting up the game winning field goal. I was 10 years old. Monte Clark the Lions HC was on the sidelines praying Murray made the kick. It sailed wide left, heartbreaking!!!
That was a great game. Their D was so good vs prime Joe Montana.
The NFCCG the next week was the biggest screw job perhaps of all time when I think it was Ronnie Lott got called for the bogus PI at the end, at least up until recently when the Saints got jobbed so badly against the Rams.
Again…my dad and oldest brother…it broke their hearts. I was like 3 years old when this game happened
still remember the tv i watched it on, and the ottoman it was propped up on. i had a bad feeling about the fg, and when monte clark was praying, i almost knew it wasn't going to happen.
This was before SOL. It was the second real Lion disappointment that I can recall. The first was the 5-0 to Dallas.
What nobody knows is that Monte Clark was actually praying for Murray to miss.
Fucker!