In their defense, they had a first round bye and would have murdered any WC team that year too.
In their defense, NOBODY was gonna challenge the WA Foreskins that year either.
Aside from that, 30 years without a playoff win is insanely putrid for any franchise from any sport.
I was there. I never thought when I walked out of the Silverdome that day that it would be more than 30 years until the next playoff victory. Just beyond ridiculous. Of course losing Utley and Andolsek within months of each other was so Lionesque. Sickening. We arguably had the best running back in NFL history and we permanently lose 40% of our offensive line. And of course we lose them to death and debilitating injury.
Lucky man, that would have been amazing to be there live for the playoff win in 91.
The best game I ever saw live was the 4th and 27 comeback from Gus to Crowell vs the Undefeated Rams in 99. The Rams won the Super Bowl and sadly we lost in the wild card round once again. That was the 1st year post Barry.
I was there as well. The dome was as loud as any stadium I've ever been in. The crowd was rocking.
I was also there in 1993 when they lost to a Farve lead GB team that they had just beat the week before.
That team won the division in 1991. Then the following year they drop all the way to last in the division. They then win the division again in 1993.
Those losses along with Fontes brother took its toll on that team in 1992.
And let's not forget the NFL taking away our victories in the first 3 Runner-Up Bowls. After 1970, the Runner-Up Bowl was discontinued and the games were reclassified as exhibition games.
All that glory, flushed down the Toilet Bowl…

It is the 12th day of Christmas, you know.
Nobody was stopping Washington that year. Not too long age some writer ranked the 1991 Washington Redskins team as the best team of all time. They dominated both sides of the ball. Football Outsiders DVOA also calls them the best team of all time. Even their two losses were super close. IMO, the Lions could have hung with anybody that year…but them.
Can I join the "I was there" club?
I was 11 years old and I can still feel the ground shaking in my bones.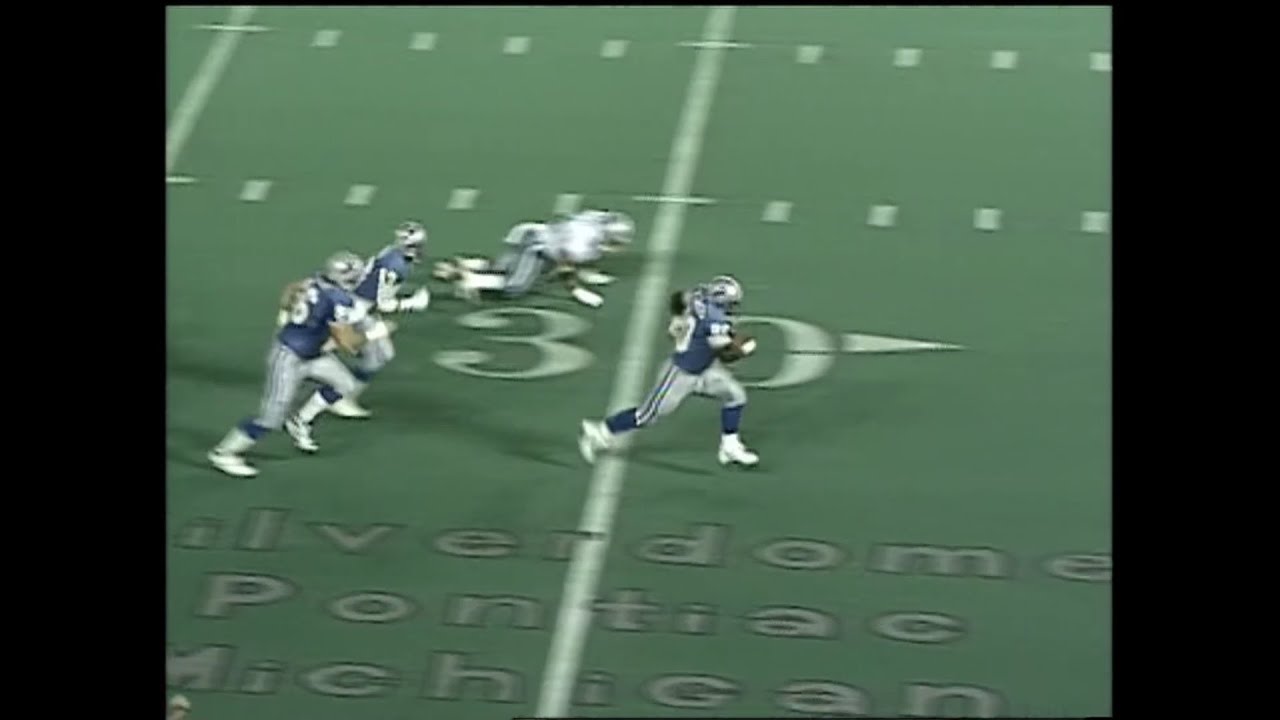 It was this run that almost brought the Silverdome roof down. Barry was running right at me in the corner of that endzone (I was about 30 rows up).
I remember seeing Barry get the hand-off and run into the group of Cowboys and lost sight of him in the crowd…
…then all of the fans stood up as Barry broke free and erupted in cheer. I only saw the waving hands and screaming people in front of me and did not see Barry cross the goal line. I had stood up on my seat but it wasn't fast enough.
But it was magical! The Silverdome erupted when 60,000 fans collectively lost their minds after that incredible play.
They showed the highlight on the big screen and my 11 year old eyes couldn't believe what they saw. I'll never forget that moment and the rush of adrenaline in the stadium that day.
I wasn't lucky enough to be at that one, but the Silverdome was so loud. Its still the loudest stadium I've ever been too, and its really not close.
Yup - we would have won the SB, if that team didn't exist. We weren't close to as good as them. We could beat anyone else, and we were playing like a team of destiny.
It would help if they could actually play one at home for a change. And if Green Bay didn't keep drafting hall of fame quarterbacks! We would have won a playoff game in 2011 and 2014. But we couldn't beat the damn packers! That's what happens when your incompetent owners keep picking names out of a hat for gm and head coach.
I was 10 lol now I have 5 kids 3 I turned into lio ns fans…aged between 17 and 11 lol
I was fortunate enough to watch Barry play in silverdome against Green Bay when I was 15