See. No way in hell could Vegas influence these games.
Vegas made a killing, simply shocking to hear.
Life lesson: safest bet is no bet!!
sure are living in the era of people with f u money.
I don't think so… we live in a selfish, I want it now at any cost era where people gamble any and all there money today in hopes of getting rich on tomorrow's bet! Aka - addiction
Agreed, what's sad is the extent of gambling being promoted these days on TV and the internet. It's constant, nonstop gambling promotion. Shit most of the sporting events are sponsored by the gambling apps. The NFL knows tons of young kids and teenagers are watching these games, and they are targeting them, trying to make gambling cool. We are going to have a ton of young people with massive gambling addictions before long. Sad really.
WAYYYYYYYYY too much.
Serious. Not to make this political (and I'm really not) but as someone sooooo conservative that his older sister called him Alex P Keaton through our childhood, I have a growing list of Government Regulation that needs to in place already, yet we're not even at the point of talking about it yet, let alone near enacting any of it.
The lobbyists that be pay off our representatives work for the people who run the gambling business….
Money and power; nothing else matters and especially the heart.
I just watched this yesterday. It's an in depth and nuanced discussion about the challenges of regulating sports betting, since most users are able to do it casually but a substantial percentage of them will develop a gambling disorder. It's like alcohol in that it's a vice most drinkers have control over, but we also can't ignore the societal harm it causes for those with an alcohol use disorder and for those around them.
And then combine the 2! There is a reason casinos give you free drinks. I got no issue with adult entertainment like Casinos. You know what it's about when you walk in. It's targeting the kids with nonstop gambling ads that really bothers me. The brain is not even close to being fully developed yet, they know exactly what they are doing.
Right.
It's all legal… gambling booze and weed. If you want to partake, go do you. In the meantime, do we really need advertisements influencing and preying on those who struggle? (of which there are many)
"Find your beach."
"That feeling of winning."
It's sick.
I like their Joe Camel analogy for sports betting. We know kids watching sports are seeing these ads over and over, telling them they can make quick money placing bets. At what point can regulators say that the way they advertise is going to bring in people who aren't able to understand how gambling really works due to their age? That and the way how the major sports leagues went from "ALL BETTING IS BAD" to getting in bed with these companies so they could snag a cut of the action. I won't be surprised when the next scandal breaks. It doesn't even have to be fixing games if people are betting on stats.
I hate all those farmers that leave their sheep out in the field, they knew they were just tempting me at a young age.
Sex with animals is wrong, seek help asap my friend. haha
Only if you're not wearing a condom. Dr Ruth says so.
I try not to judge, you do you brother! lol
Interestingly enough the "kids" tend to use data and analytics to create sound betting strategies. Its the older customers who use it like a lottery ticket. I think the first thing the gubmint needs to regulate is taking away casino and betting sites ability to take away your betting priviledges if you win too often.
And pillows! You knew what I would do to that pillow!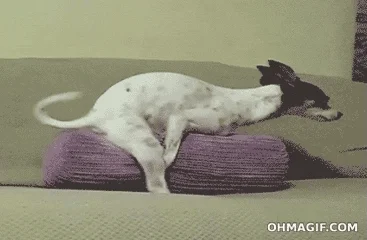 Great point, it's like how casinos kick out card counters for being too good at gambling! Clown world we live in brother.