Hmm, now where have I heard that before…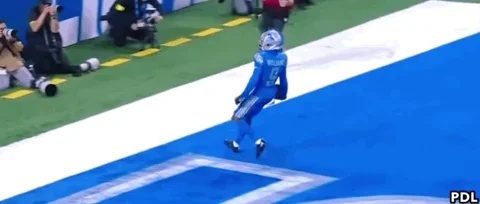 Oh yeah.
That's wonderful news! It'll likely take a month or two to fell normal. I love it!
Theres some other good stuff in here as well.
That happened in January though, almost 3 months after Moseley. Also, according to John Lynch it was a clear tear, which helps accelerate the recovery process.
Gratifying read, mucho grazie.
Interesting dynamic forming in that DB room. That's the early intrigue to the 2023 season. Ready for another Hard Knocks on this one. Curious how this impacts Okudah. He's JAG as this point. Just go out there and perform and practice and let the chips fall where they may.
If the Lions were contenders I have no doubt Jamo would've played much sooner. Add to that he was traded up for and an injury would've been a major blow to his future.
There is no long term commitment to Moseley and we aren't invested. He will play when he gets the green light. The Jamo situation isn't even in the same ballpark.
Okudah deserves absolutely nothing from us. He will likely get the early reps with the starters out of respect for him being the starter last year, but all four of Jacobs, Okudah, Sutton, and Moseley should be competing to start. Let the best guys win.
Regardless, all four are likely to see a ton of snaps next year.
I guess that's what I'm kind of looking at, is what's owed or expected. It's a full reset at this point for everyone. Competition warrants it, where there wasn't before. The last few years has been either the weight of the franchise or the struggle to return. Now, it's just go play.
Little bit of a difference tearing your acl in January vs the beginning of October.
If we draft a cornerback high and he shows he's ready to play from the jump I can absolutely see a scenario where okudah gets traded or released before the season.
This is Holmes magic here. Two CBs that weren't on most people's radar that don't break the bank or cost picks shore up our DB room
Makes the CB urgency at 6OA way less
E-Man Nick? Hmmm I like it
Moseley is a starting CB, no doubt about it. My 2nd team is the 9ers and that dude would have been CB1 on the Lions last year no question. Likewise, Sutton is clearly a starter given that contract. I think it shows the Lions felt like a lot us - that they had no legit starting CBs last year. Sutton will take one job, Moseley will eventually take another (although I assume brought along slowly), and Jacobs, Okudah and a rookie will hold down the depth.
Why? Has there been a season where our 8th corner on the depth chart didn't have to start games for us? We can never have enough corners.
If he fell far enough down the depth chart it would likely be because of the cap number he carries. If Detroit ends up taking a couple corners in this draft class they feel confident in. I didn't say it's a likely scenario and not a long shot but it's not a zero possibility. Stranger things have happened in this league.