Same week as the 50th anniversary of the "Immaculate Reception".
Still remember watching that game live.
RIP
Sad Sad Sad . . . seemed like a genuinely good dude.
RIP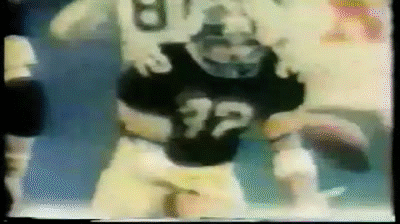 Man, as a boy growing up in the 70's Franco and many of those Steelers were a big part of our pop culture, beyond football. Hate to hear this, but may he rest in peace.
Hat seeing these guys go.
Sending love to family and you, Franco.
Ya done good, brother. Very nice job of human-ing.
Damn that sucks
Still young at 72
Always loved Franco. Pittsburgh Steelers were my adopted team back in the 70s (cuz, yeah, the Lions sucked).
RIP Franco…
RIP Franco! The day before they were going to retire his Jersey and have a huge celebration in his honor
72 is too young
Anyone know the cause?
Immaculate Reception
I remember watching that game
As a kid the Steelers were my alt fav team (Lions)
I loved Bradshaw, Mean Joe and of course Jack Lambert
Big loss for the Steeler family
Jeez — didn't know that
Must have been sudden
Wow, I had not heard this.
I was a huge Steelers fan in the late 70's, early 80's. I loved Franco and Rocky Bleier, Swann, Stallworth, and all those defensive guys. I still have a bunch of the Steelers cards from then.
RIP Franco.
I didn't like the Steelers at that time, but it was impossible not to like Franco. Rest in peace!