Just give Goff protection and a guy or two with speed. Saw these types of plays constantly in 2017-18.
There is now a very high likelihood that with a decent year D.J. will be the number 1 WR in FA by a decent margin and be in line for a Kirk like deal. Ju Ju if he has a big year in KC is really the only other guy I could see coming close.
Between 19'-20' Chark had a run rate of about 1,100 yards and 7 or so TDs over 16 game seasons…
He had Minshew, Foles, Luton, and Glennon throwing to him before a banged up tear in 21' with struggling Trevor…
What intrigues me is that it took just 211 targets to each up 1,714 yards and 13 tds … with awful QB and 4 different QBs
Over the last 2 years-
A Cooper- 234 targets for 1,979 and 13
B Cooks- 253 targets for 2,187 and 12
Allen Robinson- 217 targets for 1650 and 7
D Johnson- "313" targets for 2,184 and 15
DJ Moore- 281 targets for 2,350 and 8
M Pittman- 190 targets for 1,635 and 7
C Godwin- 211 targets for 1,943 and 12
C Kirk- 192 targets for 1,603 and 11
Hollywood- 246 targets for 1,775 and 14
Tee Higgins- 218 targets for 1999 and 12
Aj Brown- 211 targets for 1944 and 16
Keenan Allen- 314 targets for 2,130 and 14
Chark was at 8.2 yards per target and 1 TD for every 16 passes his way….
Out of that entire list…. ONLY AJ Brown was more efficient in both….
S Diggs- 330 targets… 2,760 yards and 18 TDs
8.3 yards per target and 18 targets per TD
I'm not saying Chark is as good, better or our 2nd coming….
If he puts up an efficient, high YPC 850 yard season the dude is going to cash in big.
You listen to Chark and you can tell he really loves it here. Culture also means a great deal to him after what he endured in Jacksonville. If he has a good year, I could see him coming back on a reasonable deal compared to what he could get on the open market.
I think that's a possibility. But 14-15m is likely reasonable compared to what may be out there. If he's our number three starting next year is that worth it?
Speaking of KC… I wonder how much Mecole Hardman will get if he has a decent year.
I could see a team convincing themselves to give him too much money because he is fast.
Theres a couple things to consider here though. St. Brown and Jameson are both on rookie contracts so we don't have a ton of money tied up at WR right now. You can structure Charks contract so when it is time to pay St. Brown, Chark has an out in his contract.
You also have to figure, even a 3rd WR is going to play a ton of snaps. They are essentially a starter as well. Plus you aren't cripled if one guy gets hurt. I personally would have no problem paying Chark 14-15mil if he has a good season. Now if we are talking 20mil+, then thats a different story. 14-15mil is very good #2 money.
This!
I already think he will be worth it….
Injuries are the only unknown imho
When allowed too, he produces!
I say yes. $13-14 million for a receiver of charks ability is reasonable. Especially since Williams and st. Brown will still be on rookie deals for most of it. If chark has a breakout year I say bring him back if you can get him at a reasonable price.
And he may take it. 1811 hit on it. He LOVES it here. He has talked about how important the culture is to him, as well as family. He felt it was like a family here, and he said he could also tell that family (off-field) was important to a lot of players here. As was the community. Basically said all of the above was the strongest factor in him signing here.
Well, $13-14 mil is plenty to take care of his family while playing for a place he loves to play for. Especially if they start turning things around. He's been here long enough now to understand what that would mean. And he will understand it even better after a year here and getting around the fans both on and off-field.
Here are the current WRs making $10-15 million AAV.
Gallup just got $11.5 million AAV coming off an ACL at end of season.
Robbie Anderson is just under $15 million AAV.
If Chark has a good year… I think he ends up with a deal like Kirk or Diontae Johnson.
.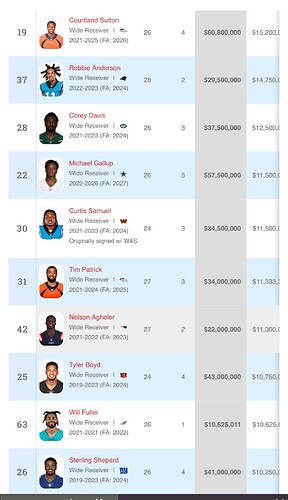 I think Courtland Sutton is a fair comparison for Chark as far as skill level. If Chark goes out and has a good year, I wouldn't be opposed to a 4 year 60mil deal. Just make sure by year 3 he can be cut with as little dead money as possible in case it doesn't work out. Something like
4 years, 60mil total, 16mil signing bonus, 30mil in total guarantees
Year 1 - 4mil base (guaranteed), 8mil cap hit
Year 2 10mil base (guaranteed), 14mil cap hit
Year 3 14mil base, 18mil cap hit (8mil dead money if cut)
Year 4 16mil base, 20mil cap hit (4mil dead money if cut)
I do not expect Chark back after this season. I think he's gone in FA's regardless.
I agree, I don't think there is any way we keep him.
Out of curiousity, why? If he is productive, is a great culture fit, and has a good chemistry with Goff and the rest of his teammates, why let him go? He isn't even 26 yet.
I understand the money aspect of it if he gets too expensive, but outside of that I would hope they do what they can to bring him back if he works out.
If they can keep the majority of this current offense intact for 2023, and then add some more defensive pieces via the draft, this team could be really good in 2023.
This year we have
Chark
Amon
Half Year Jamo
Reynolds
Raymond
Benson/Cephus
Next year we'll have:
Jamo
Amon
Reynolds
Raymond
Benson/Cephus/Plimpton/Rookie
I just don't think a $20M receiver will help us that much over the 2023 WR projected line up. I'd rather spend $20M on a CB or other position.
I do not think he was ever in our long term plans.
Yep … and I believe Jameson makes it hard to justify keeping Chark.
We wouldn't have drafted Jameson if Chark was in our long term plans.
I seriously doubt he's back.