After the Raiders beat the Texans we are all alone with the 1st overall pick…
We will end the season 4-13 and maintain our stranglehold on the top spot throughout the season. Already crossing my fingers for the mythological dream trade down scenario to play out.
You don't trade down this year. If you're taking a QB, it's Bryce Young. If not, it's Will Anderson.
A trade down will never get you a player like either of those two.
Does Bryce Young ever make it through an NFL season? 180# is pretty light for anyone in the NFL.
He's closer to 195. He did injure his throwing shoulder by landing on it funny, but through 1.5 years of SEC competition with a subpar Alabama OL, he hasn't gotten a single injury from a hit.
Except the one he just came back from. 1.5 years and missed 2 games? Just terrified of spending 1 overall and a career ending injury happening. Talented for sure.
Aces! Victor Wembanyama is ours!
Did you read what I said?
As in, he hasn't had his clock cleaned so bad he had to miss time.
It wasn't really a hit. He was tripped up and probably only got hurt because he was still trying to make the throw while falling down rather than just bracing for the fall.
Think the Clemson game was his first game back from injury. I'm assuming the injury was from an in game hit.
Well, Alabama hasn't played Clemson since 2018, so I'm going to assume you got the colors mixed up and confused them with Tennessee.
Then, here's the "hit" he took…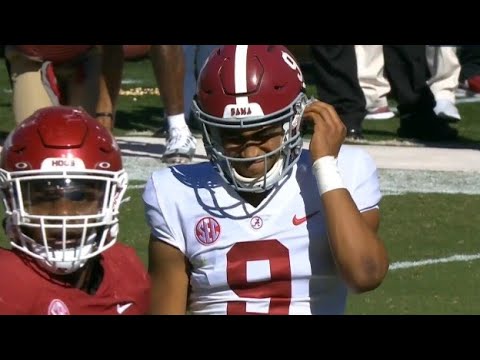 Yep. He really got drilled there.
I never dreamed we'd be picking that high again after watching the last 6 games last year and then watching Hard Knocks. Was expecting to challenge for the playoffs this year. Fooled me again Fords.
Take Anderson first than the kid from Kentucky with the rams pick
Bryce Young and Kelee Ringo for me.
If the order ended up as the graphic above currently shows…
If the Texans offered 2 & 5 overall for 1, with the express assurance they wanted one particular player and told you which one…
Would you take the deal and would it make a difference which player they said they wanted?
Would take more sweetener?
Young or Anderson
I stay if they want Anderson, I trade if they go Young.
I bet we don't pick high enough from the Rams to get Ringo.
Honestly I'd rather have Clark Phillips. Makes more plays and turnovers with less talent around him.
Maybe. I'm not impressed at all with the Rams though. I get that they have really great pieces but they also have giant holes in their o-line. And I think they miss Von Miller bad. And OBJ too.
This will be an interesting ride….
We were 0-10 last year, and found a way to take some solace at finishing 3-3-1….
Eagles have best record in NFL…
Vikes has second best record…
Seahawks a leading the NFC West at 4-3
Dallas is tied with 4th best record in NFL
Tomorrow Pats will be 4-3
Commandoes are 3-4…
remember when we thought we had an easy schedule? Lol
Will DC keep this locker room together?
Will we be drafting #1?
What if we get lucky and get healthy, and finish 4-7 to end up 5-12….
Bryce Young is legit sub 190 pounds… he will be the first QB under 200 pounds to go in the top 3 rounds since Pat White in freaking 09'… he will be the first to go in round 1 (under 200 lbs) since Jim freaking McMahon nearly 40 years ago! I don't think he will be on the discussion for top 3 pick by draft time.

Stroud has a slightly above average arm. At 6'3" and 215 he has decent size, but he's smaller than Allen, Herbert, Mahomes, and even Burrow…. He does throw an accurate and catchable ball, but doesn't seem to have "it." The knowing when to run, pump fake, or fake like he's running and flipping it over a defender to an open receiver.
These guys are putting up video game stats at football factories. My best comp for Stroud is actually Mac Jones. Mac surprised folks when he ran a 4.72 and 4.68 forty at his prod day. Stroud looks a bit more smooth out there, it he's not Fields in build or athleticism. Strouds best recorded 40 I could find was 4.74….
looking at what Will Anderson is doing again is jaw dropping. He's my guy at

#1

….
Stroud and Young are more Kyler, Baker, type prospects vs Mahomes or Allen…