Antoine Greene.
I'm really impressed with the scouting staff here. I think our current regime's roots in the state of North Carolina may have really helped us here exploit a market efficiency as I'm now of the belief that provided good health (that has been his bugaboo) we got a WR with a rare profile in this class several rounds below where his talent level would justify him being selected.
Greene only played in nine games last year. if you prorate his line for the full 14 game season he'd be at:
67 catches 1,241 yards and 11 TDs
That would have placed him 7th in the Nation in Receiving yards and tied
for 7th and tied for 7th in TDs.
On his per game basis his production compares well with all of the burner deep threat guys in this class excluding Jalin Hyatt.
Antoine Greene 4.78 catches 88.67 yards .78 TDs
Marvin Mims 4.15 catches 83 yards .46 TDs
Trey Palmer 5.92 catches 86.9 yards .75 TDs
Tyler Scott 4.5 catches 74.9 yards .75 TDs
Jalin Hyatt 5.18 catches 105.8 yards 1.5 TDs
Matt Landers 3.65 catches 69 yards .615 TDs
Additionally, he generally speaking plays the best against the best. Since becoming a starter in 2021 he has played 7 games against teams that finished the year in the AP 25 (+1
). He did have a quiet 1 catch 11 yard game against NC State in 2021 but the other 6 are:
'21 ND 5/83/1TD
'21 Wake 6/83/1 TD
'21 Pitt 3/108 2 TDs
'22 ND 3/150/2 TDs
'22 Pitt (finished 26th in AP voting) - 10/180/2 TDs
'22 Clemson 5/55/0 TDs
So in the 7 games he played against premium competition his averages were:
4.7 catches 95 yards and 1.14 TDs. Excluding the NC St. no show he's at 5.6 catches 107 yards 1.33 TDs per game. That is elite '22 Jalin Hyatt-sequel production which won him the Biletnikoff.
So why did he slide? Well, injury history, being caught in a WR log jam and living in Downs' shadows these last two years may have contributed. I'd recommend this Podcast as the UNC writer does a far better job of explaining then I could
Why will he pop early like Rodrigo? Opportunity. Interestingly the first six games are the inverse of the situation that he encountered throughout much of his college career. Until Jamo
returns we simply don't have any deep threats that combine both speed and length/contested catch ability (though even after Jamo returns I'm not sure that contested High pointing is his forte).
Apologies about my circumlocution here. The further I climbed down the rabbit hole the more my conviction grew. I really think he's suiting up game 1 and is part of the plan on offense. I suspect it will only be a handful of snaps but I'd expect to see him have a role akin to Marvin Hall in 2019. At least until Jamo returns.
If he can be one of our gunners that would really help his cause. If he does
make the squad he really does have the perfect mentor.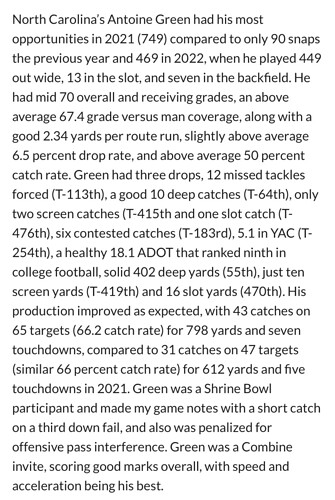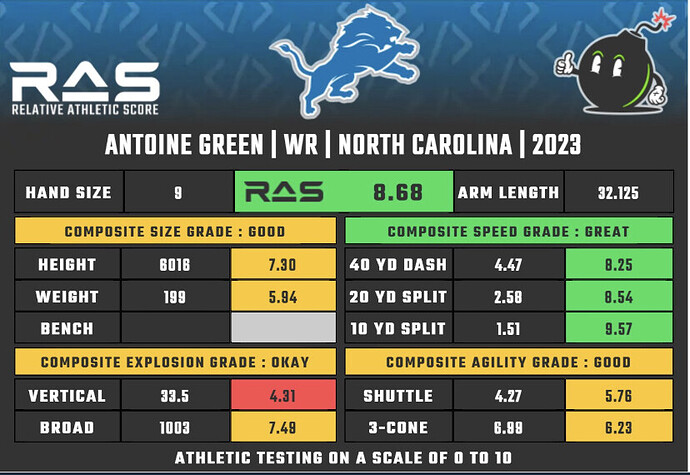 m
You can see the likeness in play style here as well.
https://twitter.com/dumasmike/status/1657563705125531648?s=46&t=LFKEGZaCKPSswf-uVGH04A