how do you prove it against no opponents !!??
Yeah, I don't get it. Maybe they want him to feel supported going into a make or break season.
Either way, go out and get it done on the field.
I'd understand if they said " hey Goff is our guy." BUT to say 'this offseason…he is the guy.' is awkward. maybe they mean between Goff, Blough & Boyle…?
I guess its like deciding you are ready to be a pornstar because you had some good wack sessions alone.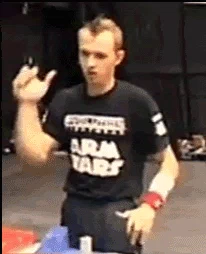 Did you guys read the article? This is a misleading headline.
"We felt very confident going into this year with Jared being the guy, to lead us at quarterback. But, at the same time, we were open. We had very transparent conversations about you know, look, if the right guy's there (in the draft) and it's the right fit, we'll look into that," Holmes expressed to Eisen. "And, I will say, what we didn't want to do is we didn't want to force anything, in terms of well, we've got to grab a quarterback. And, if it's not the right fit and player, you know, just still grab a quarterback. We just didn't have that feeling, as we went through that process."
So basically, they were open to picking a QB if there was one there who was better than what they had. They didn't feel there was one. The Steelers were really the only ones who felt that as they took Pickett. Which makes sense when your starter is Mitch Trubisky.
"There's times in the draft where it was looking like it could've happened. But, it didn't. But, at the same time, we didn't force it. We feel good about Jared, the way that he finished the year, with all the adversity that he faced last year, the way he finished," Holmes said. "And, Dan and I just want to make sure he's set up for success. We're still going to put in efforts to do that going forward. And, Jared knows it's, every year he's got to come out here, compete and prove that he's the guy. But, thus far this offseason, he's done that."
So, they are saying thus far, Goff's done as they hoped. A gigantic "thus far" in there. Also stating, Jared knows he has to compete and prove he is the guy. I am not really seeing where the Lions just offered him a 10 year extension or something.
well I didn't see this big article on it, but I will say it puts a LOT of pressure on Jared to flat "get it done."
In summary, Goff is decent, but we would upgrade if the right QB was there. B. Holmes speaking truth.
Exactly. Love how open and honest. Jared knows he's got to perform, just like everyone from every other position.
He never said anything like that I listened to that show Your just saying what you think he meant but didn't say. If you want to express that opinion make it your own not make it sound like Brad's
Taking something said positively and making it negative.
A Detroit tradition.
It's true. We all know that Goff is not Maholmes or Rogers. He's not even Stafford.
He's Jared Goff! NFL starting QB for 6 seasons, who's been to the Pro Bowl twice, the playoffs 3 times, and to the Super Bowl once.
Name me one other Lions QB that has done as much?
Fact, Stafford saw the train wreck coming and wanted no part of being the Lions QB in 2021.
I guarantee you, if Goff (or any other franchise QB) would have had a choice, he would ran the other way, too!
Everyone wanted out of Detroit after Quintricia!
That's why we lost so many good players. That's why Goff had nobody to throw the ball to the first half of the season.
The haters try to spin it that Goff sucked for 9 games. No! He's not a fucking miracle worker. He can't turn shit into gold.
Now, what do we do when Goff looks at the contract offer from Detroit next year and says, "off you fuck", and signs elsewhere?
Detroit fans don't deserve a winner.
It was just my take on what he said bud!! I'm wrong all the time, I'm also right about 50% of the time. So who really knows.
So many people seem to think they have all the answers without ever admitting to being wrong.
Don't listen to the vocal minority, my man. Lions fans deserve a title…big time. The world's most loyal sunza-bitches. They deserve it. dont let a few overbearing outspoken viewpoints sway ya.
Goff is a pretty interesting player to me. He starts out the #1OA pick going to the Rams with Jeff Fisher as the coach where he has a pretty abysmal year. It was clear to me that Fisher wanted Goff to be something that he just wasn't, and Goff never got the proper foundation for playing QB in the NFL. Fisher gets fired (a bit late, but whatever), and Sean McVay takes over. Suddenly, Goff is tearing up the League, even beating Mahomes in a shootout that totaled over 100 points. Goff leads them to the Super Bowl, where they lose in what was the most boring Super Bowl I have ever seen. It was clear McVay had overthought his game plan because the Rams went away from what they normally do and tried to ride the back of a RB with one leg against nine man fronts. Now that was truly innovative coaching!
Somewhere, McVay clearly lost confidence in Goff, and started playing mind games with him (sounds like Patricia). Surprisingly, Goff did not respond well. Go figure. Now, Goff has a GM and coach who are expressing a lot of confidence in him and he is responding very positively. I think both Holmes and MCDC know exactly what Goff can and cannot do, and they will adjust to his strengths. Goff played better his last seven games last year (once MCDC was calling the plays) than he did the two previous years under McVay. Different players respond differently to the type of situations they are in. Some only need a quiet word to adjust their play, where others need to be yelled at to drive the point home. I think Holmes and MCDC have decided they can get the best out of Goff by showing confidence in him and providing full support in public. This has no impact on what they are planning for the future. They may well have a plan to get another QB in the future, but for the time being, Goff is their QB and everyone is going to do his part to help him reach his highest potential.
Really appreciate this type of input. Good insight, man.
This just about sums it all up.
This narrative of innocent Jared and Evil McVay is sort of bullshit.
There's an ESPN article floating around on that relationship with multiple team and league sources, so it wasn't some kind of secret: yes, he lost confidence in Goff, but I've read nowhere that he played "mind games." Goff was evidently confused by McVay's evolved offense and couldn't read defenses fast enough, which the entire strategy was predicated upon. McVay was probably too hard on him and admitted as much.
But it seems a good portion of the locker room sided with McVay during the drama, so comparing a Super Bowl winning head coach to Patricia, one of the worst (and most loathed) head coaches in history, is rich.
We'll get Jared at his best if everything goes smoothly around him. Let's hope that's the case. I want to see him thrive here; him kicking McVay's ass in the playoffs would be epic. I'm just not counting on it anytime soon.
definitely a little cartoonish when characterized like that. But there are stories I've linked here saying how McVey would dress down Goff in front of teammates, then refuse to talk to him
That's not evil, per se. but it's not something we would see Campbell do. It's also not surprising that a young QB might not adapt to a new scheme as quickly as a coach would like. Stafford year seven wasn't as experienced in schemes, recognition and defenses as Stafford year 12
Rams are in a 'win now' window and getting a veteran QB for an evolving offense was a reasonable and fruitful move. That doesn't mean Goff can't improve like Stafford did and can't be a really good QB for a team in rebuild willing to coach
Whatever the reality was with Goff and McVey, the only sane approach for the Lions was to try to get his head straight and maximize his potential.
And they will continue that approach until the relationship ends.
Why would they do anything else?
When it comes to misleading headlines, the unapologetic Brad Berreman of the SideLion Report is the worst. They know they're misleading and they're designed for one purpose–drive traffic to the website.