Off year but certainty an intriguing option. Our last Denver castoff kicker worked out well.
Take out a missed 63 and 64 yarder and he's 8-11 plus 50 which is close to his goal.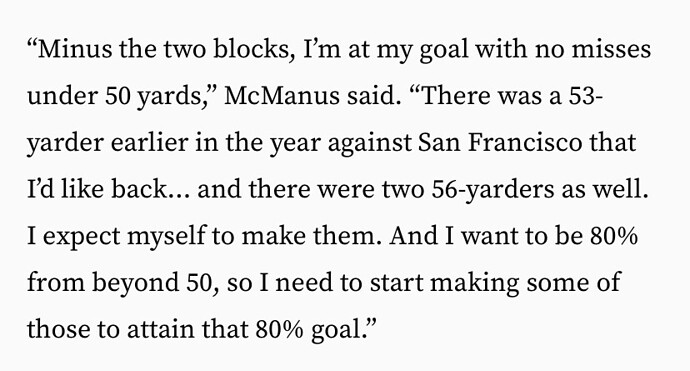 Removing those two tough assignments from 60+ gets him above his career FG percentage so perhaps it really wasn't a down year. Instead just skewed by some exceptionally challenging high profile misses.
Brad should do this.
I am not a fan of Badgley at all. For all the credit Holmes deserves, he's been really bad at finding a FG kicker. He let Prater go and went through 3-5 kickers in 2021. Last year they made the wrong decision to go with Seibert over Patterson and brought in Badgley during the season.
Hyperbole or not, McManus would likely win us a game that Badgley would not this year. Could even be a playoff game.
Down by three with 3 seconds on the clock at the 35 yard line. Really think Badgley would make that kick?
Broncos should let trade Javonte Williams to us. That would round out our RB room to one of the best in the history of the NFL.
Low milage on all 3 of 'em!
Like Dobbins, Williams injury was the ACL and the LCL. I wouldn't expect a V shaped recovery.
Yeah, this is a no-brainer. A guy used to kicking outdoors, even if playing in Denver offers a bit of an advantage. Definitely a guy you can be confident in making a kick in a big game.
The three misses inside 40 are the scary part. That's not typical for him. He was perfect 40-49 and if you take out the 63 and 64 yarder he would have been 12th from 50+.
He's clearly an improvement from distance and if the yips on shorter yardage field goals was an anomaly then he's a clear improvement.
He also can handle kickoffs if we prefer to get Fox off of them.
Yes. It's 45+ where McManus is the clear improvement.
From what QB90 has said, this staff views the success in the 40's more important than the long range fg.
Hanson missed those kicks
that's why we got rid of patterson. Oh…wait…
Its mile high though. shouldn't you take three yards off of every kick and see how he pans out?
McManus has had a longer carrer then Badgley so the sample size is much bigger. McManus has attempted about 2.5 times the amount of kicks Badgley has.
McManus' Career
29 or Less - 62 for 66 94%
30-39 - 60 for 65 93%
40-49 - 61 for 71 86%
50+ - 40 for 72 56%
Xtra Points - 277 for 286 97%
Badgley's Career
29 or Less - 27 for 28 97%
30-39 - 26 for 27 97%
40-49 - 36 for 47 77%
50+ - 5 for 13 39%
Xtra Points - 155 for 160 97%
I rounded all percentages up to the nearest full percent. What this tells me is Badgley is incrementally better then McManus from 40 and in, but McManus is significantly better from 40-49 and especially 50+. I would also trust the larger sample size of someone like McManus.
Just for an eye opener, badgley would have to make his next 30 kicks from 40-49 to match McManus' career percentage from that range.
I disagree here. I've watched at least 4 other teams struggle BADLY with getting a kicker off the street. Holmes has done pretty well aside from Santoso.
Badgley has limited range but has otherwise been really good. He continues to bring guys in like Romo. The Lions have a budget for what they will pay a kicker and are sticking to that philosophy.
that is eye-opening!
i get 32 actually.
The study they did on this topic would suggest that isn't true.
You have explained why he is in Detroit without realizing it. 97% from inside 40 yards. THAT'S what the lions care about anything over that is a missed opportunity to score a td and they are looking to most likely go for it or punt it…….that is their philosophy.