Why do people in Athens sleep till noon?
Cause dawn is tough on Greece.
Why did the Easter Bunny hide his eggs?
He was ashamed that he fucked a chicken!
hear about the foot doctors enemy?
It was his arch nemesis
You guys dont want to start this up…
I have so many of these I have to store them in a Dad-a- base
It takes guts to be an organ donor.
I figured this would be like lighting the bat signal for @CuriousHusker.
How did the pastor begin Bambi's wedding?
"Deerly beloved…"
What did Boo Boo become on his 18th birthday?
Bearly legal.
Why do golfers take 2 pairs of pants to the course?
.
.
.
In case they get a hole-in-one…
Dad jokes has no offseason.
True life "Dad" joke but I wasn't kidding. When we moved onto this golf course there weren't many houses yet and the school bus stopped right in front of my house, first stop in the afternoon so all their friends were still on there. As time went by their behavior started to slide at home and my threats of repercussions went unheeded. I was there to meet them every day,it only took once meeting them in a pair of boxers and an open beer to settle that shit down.
You have my full support, bro. Love that.
I'm picturing something like this…to get the job done!!!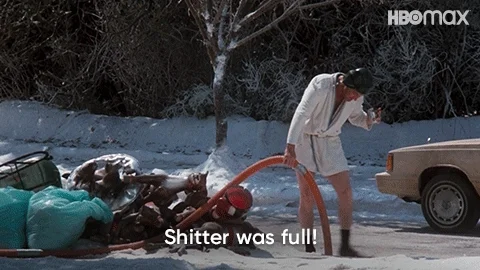 Yeah, cousin Eddie broke the mold.
Did you hear about the argument in the Indian restaurant?
Ended up being a naan issue
Naan is so good!!! Sorry not a dad joke but just wanted to profess my love for naan
When I make it at home I always make a small batch ahead of time to add help the bigger batch rise. It's a naan starter
And now I want Tandoori Chicken and Lamb vindaloo to go with some garlic naan.
And now I'm looking up Indian restaurants near me
Do you think horses remember things when they were little?
Am I doing this right?