Geez.
Why even play him anymore this year?
The Bears are dumb.
Keep playing him Chicago. I'm sure everything will be fine.
Isn't that what happened to Stafford his rookie year? He was in a helluva lotta pain, came out and threw that winning TD vs Cleveland and then he was out the rest of the year, right?
If they gave even half of a shit about fields they would IR him. They aren't going anywhere
We just need him to show out for Minny. After that, I don't care.
Seriously, they are 3-8, their running QB's shoulder is separated but he's still practicing anyways and they might play him in a meaningless game for them. Go Bears Go!!!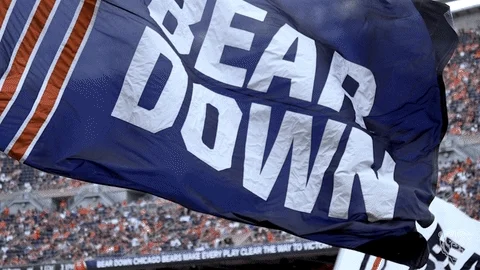 So 20 carries per game by your QB isn't a good plan?
Well, for Fields sake at least it was the left shoulder.
Apparently, it's a new kind of tanking to put themselves in a position to draft another QB and shift Fields to RB.
Thinking that LAR will outpoop Da' Bears for top pick.
Luckily Fields has great vision and understanding of reading defenes so he will be able to stay in the pocket and destroy the Jets in the passing game vs their top ranked defense.
One can only hope, but the Texans stand in the Rams way.
Rams have a really good shot of losing out. The Raiders and Broncos at home are probably their best shot, but that's only if they have Stafford.
The Texans have multiple winnable games so if they can sneak out two more we would have a shot.
If the Lions get the #1 pick and make the playoffs this would be the best Football season of my lifetime.
I just looked at the Texans schedule… and I'm basically conceeding them the 1st pick. They also got the Browns 1st round pick, so if the draft was tomorrow they are picking 1st and 7th!
Oh my goodness, so when we lived in Chicago every time I saw that, my immediate thought was what we used to tell patients in SVT - "bear down like you're having a bowel movement!"
Also I'm pretty sure that's what the OB docs tell patients when they are delivering.
I know we criticize "GRIT" and that whole "Dagger Time" was so dumb and laughable, but Bear Down has so much deeper and hilarious meaning to me.
Consequently, I'm sure there are some bears fans who go into SVT while watching the bears and that's is some sage advice.
Oh that koolaid is strong!! So Strong! haha
Fields just needs to Bear Down and everything is going to be A okay!!
Lol he's been doing that by leaving a big shit on the field at the end of every game!
Ba dum tsss…
Could you imagine the shit storm around these parts when we DON'T take a QB @ #1?
It would be delicious…