This kid is a beast! Want him in the worst way in Honolulu Blue
He's one of my absolute favorites as well. Will be interesting to see if we'd pick a safety that high.
Agree he's my # one guy for this team.
If we get him, I'm going to be calling him "Hammy" (that's what I used to call Rip Hamilton too).
Here's Hammy! His friend Bacon is almost as d̶e̶l̶i̶c̶i̶o̶u̶s̶, I mean cute.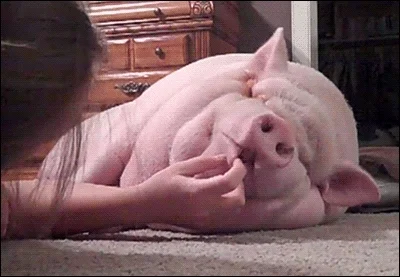 He should definitely be on our short list.
If we pick top ten I hope we end up with Thibedoux, Hamilton or Stingley. Though Stingley has seem disinterested since his freshman year.
Golladay's nickname after last year since his hammy kept him out all year
I don't want to spend a top 10 pick on a safety, even though we need one cataclysmically. I want our first rounders to be a QB(Willis)/Thibodeaux, and one of the OSU WRs, in any way possible to get them.
Haha! So is it like bringing a jersey out of retirement?
I doubt we could do that again, cuz Golliday's already hurt again.
Meh. They're fine and will both be solid pros (I prefer Wilson personally) but they don't wow me like some of the '23 guys (Boutte in particular).
As for '22 WRs, give me Tolbert.
I'm definitely not calling a Lions player "hammy." Just like if he were Alan Curtis Long I'd shy away from calling him ACL. And I'm definitely not calling him Joey. That's just homoerotic. Now if Kyle Hamilton becomes a Packer all bets are off. In fact I will nickname him Rip Hammy!
We could give him the nickname " Lin-Manuel Miranda"
I'm all about a QB especially if one or two of the QBs show worthy of franchise potential (Carson Strong is my big time sleeper) but Thibodeaux and Hamilton are quite possibly the best players in this draft with the most long term potential. Not sure how I feel about a safety in the top 5 but Hamilton might be one of those special ones you roll the dice on.
Not sure he's a sleeper. I've seen quite a few mocks with him in round 1.
In fact this one has him going to the Lions with the Rams pick.
I would love Hammy and Strong with them 2 firsts RDers and then Romeo Doubs with our second.
I'm saying that he's a sleeper to jump into the top 5 in some mocks by years end.
He might have the biggest arm in the draft. He has the type of arm talent that makes teams notice and with him getting more exposure this season now that he's a little more known, I think more scouts will fall in love with him.
Agree on the arm. Dude has a howitzer. But so did Jacob Eason. I think Strong is a better QB than Eason of course but his lack of mobility will likely prevent him from going that high (IMO).
I don't know, Mac Jones isn't that mobile either and doesn't have near the arm that Strong does and he almost went in the top 5. Strong is also pretty accurate so I'm not sure I buy the Eason comparisons who was a guy that would spray the ball all over the field recklessly.
We'll see though. This QB class is really intriguing in the sense that there aren't really any sure things like Lawrence and Fields were slated to be coming into the season. I think there will be a lot of volatility in the QB rankings this season.