What if Levi is the Lions most improved player this season? What if he fu**s people up?
DaShawn Hand was great, the 12% of his career he wasnt hurt
I hear ya… this news doesn't really feel the same as the no news we had on Hand
I think Levi will surprise this year…haters gonna hate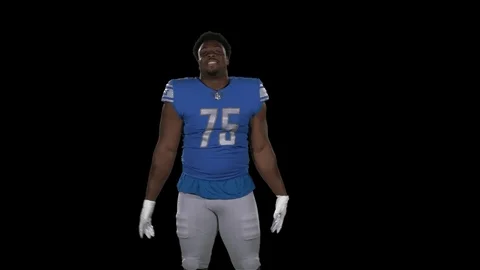 One thing I like is that we have so much that looks really good already…as well as many X-factors.
-Okudah → What do we expect from him, this year? clueless what to expect
-Where is Alim's ceiling? Good to really good player
-What can we expect from Onwuzurike? clueless
-What should we expect from Okwara? (already know his ceiling -good)
-What is Hutch's ceiling (already looks good)
-Is Houston a contributor? Clueless
-waht will Paschel's contribute be? (expect good but with a high ceiling)
-What is Joseph's ceiling (feels good, but with rookie growth curve)
-Rodriguez (spot duty & ST with upside?)
-Gonna lump the CBs…AO looks good, JJ looks good → both have high ceilings, imo
Is nobody going to comment on this part of the article? Really? I know the koolaid is flowing here at a record pace - but wtf?
But Lions defensive line coach Todd Wash revealed some important context to Onwuzurike's rough rookie season: he was hurting bad.
"I know he played, he didn't miss games really for the most part, but he was not healthy," Wash told DetroitLions.com's Tim Twentyman recently. "He was battling through it."
It's unclear what exact injury Onwuzurike was dealing with. Early in training camp, he missed significant time with a lingering back injury from college. He missed Week 1 with a hip injury. But he didn't show up on the injury report for the entire rest of the season, outside of a couple day stint with an illness.
But based on Wash said about Onwuzurike's current health, it sure sounds like it was a pretty serious injury he was dealing with.
"I think our strength staff did a really nice job this offseason. He's not limping. He can actually sit in a chair for meetings. So, health is the biggest thing for him," Wash said
Levi was hurt so bad last year he was limping and couldn't even sit in a chair - yet was not only playing but being left off the injury report? Weird situation. I think blindly assuming Levi busts out this year is awfully optimistic
Tell that to Todd Wash I guess. I think Todd Wash is leaning towards Levi busting out
Not yet.
2 years of it? Well, we're at that with Okudah now…
Not saying he still has a back injury, but if Levi does that's not good considering he had it since college. I'm really pulling for him though.
Ok… so let yourself dream a little… what if both okudah and Levi bust out this season?
I'm not saying they will… I'm just asking what if they do?
Pretty decent chance of that w Levi. Okudah has 2 years of rust and a barely started transistion from college speed/size/route trees and qb arms from the Big 10. Corners take til late yr 2 tonfigure it out.
Hes like mid year 1. Maybe.
I think he will be a starter level guy near the end of the year, but it may be rough for a bit. Jacobs has a real shot at being better.
So if Levinl busts out, that DL will be nasty, because Hutch is a beast, Pascal looks like a keeper and ROkwara was tough to block 1 on 1 in 2020…and Harris stepped right in and made things happen. JOkwara and maybe Davis in the rush LB position too on 3rd downs? Gonna be a lot of heat on OC/OL/QBs to figure out how to stop the downhill train coming at them.
(Answer, target our shitty linebackers…)
I think we'll see a much improved Levi especially with the new attacking philosophy. Obviously it's not a sure thing, but I think it'll play to his strengths.
It would help if we knew what the injury was. Hip could have lingered all year but be healed, back could be long term recurring type stuff and not good.
It would be a dream scenario for the DL if he did bust out.
Or maybe it is bad players gonna play bad.
Really good points. I have sort of mentally 'written off' guys that didn't contribute last year… As in, I have not been counting on them bouncing back or improving much. Ragnow being the exception, due to his proven success in the past.
I think it is a defense mechanism after years of Lions fandom. Guys don't just 'pop' very often after down years in Detroit (historically anyway). This is not to say I am not rooting for them, it's just that years of disappointment leave scars.
However, a LOT of these guys are young. As a result, they have a higher likelihood of returning strong from injuries, and improving their skillsets.
The title of the thread says we should dream a little, right?
What if Okudah turns into a very solid pro? What if he shows as a first round cb? That backfield looks a lot better. If Levi can penetrate and disrupt? If Barnes stops looking lost on so many plays? If guys like Board and Elliott can stay healthy? If Williams' ACL heals fully, and he is equally fast afterwards?
I am mentally prepared for none of those things to happen. Yet, I still think we are OK, because it appears we have a competent front office and coaching staff who will deal with it well. Which is a refreshing feeling…
I don't take it as an injury situation, I take it as a conditioning situation. I seem to remember him being checked out last year (went to see a specialist) and the general feeling was that he was hurting from strain and playing against grown men. Sore, not injured.
I agree. You can't spell Denim without the Den.