Let's just pray he's washed now??
Exactly. This is not good news.
The Vikes also got the best DT in free agency too. Dalvin Tomlinson.
Unless we feel we are making a run in 2021 than I doubt this deal impacts the lions much… just saying
They are hoping PP still has it, his play dropped a lot last season.
"Peterson has been selected to the Pro Bowl eight times and has been named a First Team All-Pro three times.Despite this, Peterson struggled mightily in 2020.Peterson posted his worst coverage grade since his rookie year (53.1) and led the league in penalties with 12."
Boy did PP bring it in 2022! Statistically it was the 2nd best season of his career.
Incredible at his age and the position he plays…AND…it was on a 1 year $4 million contract (lowest of his career).
As for playing on a one-year deal for just $4 million, Peterson said he's at a point in his career where the financial side of the game is a secondary concern to him.
"I love the game," he said. "All that other stuff is going to come with it. As long as I have an opportunity to play the game that I love at a high level, give it all I got, and help my teammates reach their full potential, that's all that matters to me. As long as I'm making something that's respectable, I'm not trying to back up the Brinks truck anymore because I know I'm not 26, 25 (years old) anymore. I just want to be able to have a respectable contract so I can come in there with a smile and we'll go from there. It's just me betting on myself again. We'll see where it takes me this year."
I would love to snag Peterson away from the Vikings. He's exactly what this secondary needs, a wily veteran to balance our youthful secondary. I go back to Rasean Mathis and what his veteran presence meant to Darius Slay Jr. These young guys need someone to follow as they grow in the league.
1 year $5.5 million - is that enough?
Put me on the Patrick Peterson bandwagon. He'd be a great addition to our roster in 2023. Everyone wants to draft a rookie CB …but seem to forget that we were the youngest roster in the NFL in 2022. You can't have a roster full of kids.
I'm with you! Also to note you replied to something I posted 2 years ago. Somethings get better with age, and PP seems to be one of them, like a fine wine.
I always use the search button before throwing a new topic out there. This was what came up in the search so I threw it in this thread.
It really is amazing how PP kept this level of play up. It really tells you how much he loves the game of football. He's made over $100 in his career. Money is not an issue when he sits down at the negotiation table. Could be a real value addition for $4-5 million, especially considering the impact and growth he will have on other players.
And it would be hurting the Vikings! Win/win
I mean, he was on that terrible defense last year. Maybe he played well himself but he didn't make much of a difference to the team overall. I'm more worried about Brian Flores.
For sure, but you could say the same thing about Lions defenders that had good seasons last year. There's 11 dudes on the field. PP had a great season, can't discount his performance because the rest of the defense sucked. It would be like saying Hutch shouldn't have won the Pepsi rookie of the year because the Lions gave up the most yards in football.
Or not recruiting defensive players who played on bad defenses in college.
I'm just not overly worried about one guy signing with the Vikings. And yeah it's for that reason, one guy doesn't tend to make much of a difference, but that's especially true at CB where they can be avoided. There's no avoiding Hutch.
But he did make a huge difference for them. Without his 5 interceptions and game winning interception in overtime vs Josh Allen, they win 2, maybe 3 less games.
He's getting up there in age though. But, I give credit to the man for making huge plays for them when it mattered most.
Highly unlikely. Or I guess it's better to say there's no way to know, but the idea of a CB swinging 2-3 games in a season is farfetched to me. A lot of QBs don't swing that many games.
Maybe the Vikings' replacement for Peterson plays even better. Maybe Peterson was at fault for game-losing plays as well. Maybe the offense opens up more if they think their defense is worse overall without him. There's no way to know how those games finish.
I don't think Peterson's a bad player and I thought he played well last year. But adding a guy back to a defense that was terrible last year isn't gonna bother me any.
Well by taking away their best defender they could get even worse, that's my point. Anyways, we aint gonna agree on this one. And that's okay. Sign me up for PP on the Lions is my main point.
And I'd be fine with that given the state of our defense. I just don't think he adds anything that wasn't already there to Minny. Now the other guys they add this offseason to go with Peterson could potentially be worrying.
Can there be hidden value from a player? Value that doesn't show up on a stat sheet - INT's, tackles, PBU's.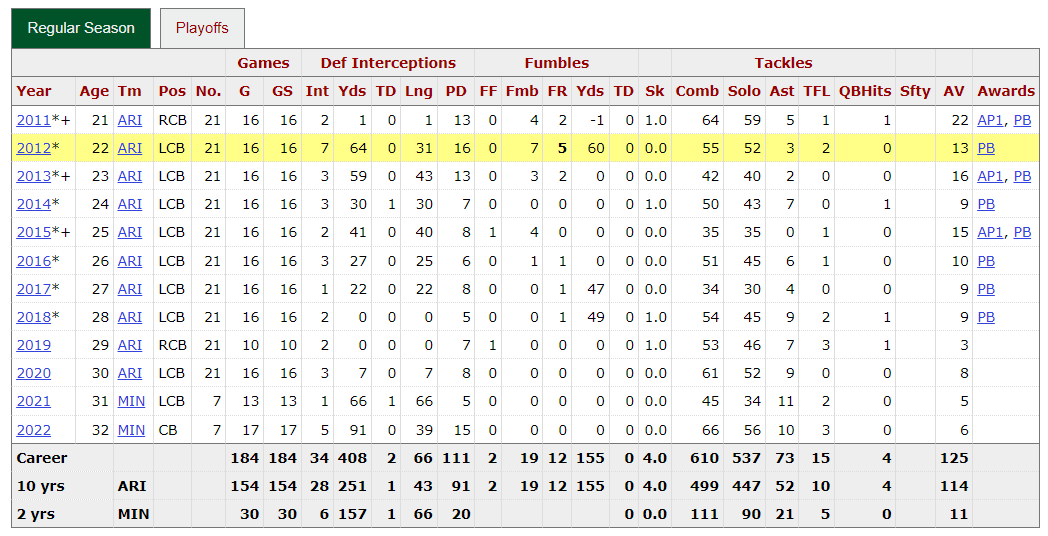 How do you quantify the value of improvements Peterson could add to Okudah, Jacobs, Lucas, Melifonwu, Joseph?
Peterson has 184 NFL starts (not counting Playoffs). That is more experience than our entire secondary combined.
I don't think Peterson will swing the needle as one individual player, but more so move the needle with the growth of the players around him.
and remember, probably the largest thing we could say that would swing him to the lions "we don't have kirk cousins".
If we were going to be zone heavy I could see it. He's not the solution if we still want to be press heavy. He's a different player then he was three years ago.
Would Pat be on the fringes of the Hall Of Fame when all is said and done?