Does his wife still own a bakery in the area?
I see picks 7 and 11. Rams pick is 7, LOL.
Tha Tankathon mock draft has us taking Levis there. Nah.
is there any way the football gods could get us Carter AND Anderson?
You have a LOT of players I like in both drafts. If Carter drops to #6 we would almost be forced to take him.
I would probably say the 2nd one.
I think Carter and Porter would dramatically improve the defense by closing two holes and both would be immediate starters.
If be happy if Bijan were there for us in the second. I doubt he drops much past top 10-15 though
It would. I get it. But I'm of the school of building a pass rush, though. If you give the opposing quarterback no time to throw the ball things are going to happen. He's going to panic. He's going to make mistakes. He's going to bolt and make mistakes. A great pass rush can cover up average DB play. And it helps young DB's mature a bit. It's just a little bit forgiving for them. Yup a good to great pass rush will make the QB panic. Will make him afraid. Will make him make mistakes. Might even make him cry. And it's not like I don't like or appreciate good DB's. I love those guys. I grew up watching Lem Barney, Dick Labeau, Night Train Lane, Dick Jouron and more. They're the ones that are going to pick off those mistakes. I just like a bunch of bad ass goons striking fear in a quarterback and pissing off the equipment person that has to get those shit stains out. Yeah!
OK If the draft falls like this and we draft sixth with the Rams and Young, Carter, Anderson and Murphy are all gone….
Assuming there's no trade down, who do you draft? Levis and let him sit for a year?
I'd be tempted to take Quentin Johnston WR there, then Breese DL at 12. Jamo, Johnston, Amon Ra. That's a lot of weapons…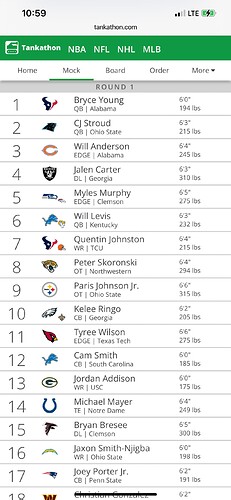 All tempting. Part of me likes Levis…and part of me is mortified to draft a rookie contract.
-Harrington
-Peete
-Ware
buncha flunkies that the most committed football fans wouldn't know - C R A Z Y
That's almost the nightmare scenario for us. I'd also be tempted with Johnston and Addison is really good too IMO. You could do a lot worse than taking one of those guys to be here with Jamo and Amon-Ra for 10+ years.
I'd try and trade down with someone that wants Levis.
Gun to my head I might go Bresee, but I wouldn't like it.
I just went and looked at the teams competing for our RamBean. VERY realistic. In fact, I wonder if it could be worse.
Raiders
3-7
Brocos
3-7
Steelers
3-7
Browns
3-7
Colts
4-6
Jaguars
3-7
Texans
1-8
Rams
3-7
Cardinals
4-7
Packers
4-7
Bears
3-8
Saints
4-7
Panthers
3-8
WOW - I'd like to see a bean tracker thread
This does not look promising
12 teams either tied with or threatening our RamBean
Texans are likely 1OA
At least a couple games are teams in that group playing eachother this week. Just have to hope the Rams keep losing out and more likely than not we're top 3-5. (I think)
Hope you're right, my man.
I'd LOVE to get Anderson or Carter.
Jacksonville, Cleveland, and Las Vegas all won today… the Rams pick keeps on getting better!
LA Rams #3 with a Bullet !!!..Can I say that in LA???
Stands at number 3 right now. Would be number 2 if the Bears had had their bye week.