Nose tackle with a terrible RAS. Not sure it matters at NT though.
From the NFL.com breakdown:
Jones was a big-time in-state get for the Rebels, a five-star and top-50 overall recruit from Waynesboro. The Mississippi Class 5A Defensive Player of the Year started four of 12 games played as a true freshman, posting 29 tackles (4.5 for loss). In 2017, Jones started 10 of 12 games and made 29 tackles, 7.5 for loss, and 1.5 sacks. NFL scouts saw him take his game up another level in 2018, starting all 12 games and setting career highs with 34 tackles, nine for loss, and three sacks. Jones did even better in 2019, garnering second-team All-SEC honors after leading the Rebels with 10 tackles for loss (including 5.5 sacks) among his 30 total stops in 12 games (10 starts).
Former top-50 recruit? So the natural part is there…
He had a good preseason apparently, don't know anything about him though.
Yeah I wish arm length was a RAS measurement, especially for DL, OL, LB and CB.
A little more on Jones. He brings that girth the Lions were looking for at 315 pounds. He hasn't played much his first two seasons after going undrafted, but had a productive preseason, logging 110 snaps, while recording seven tackles (two for a loss) and five QB pressures.
He's got some girth!!!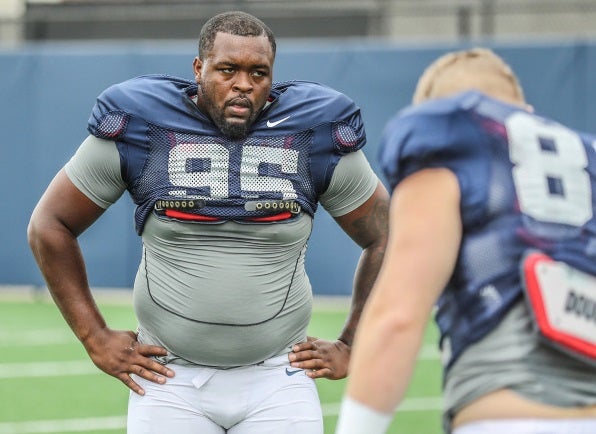 I would guess Levi O to IR.
Not sure about his grit.
Looks like getting into a standing position took a lot out of him.
Maybe Buggs if not one of the IR spots? Can we not IR guys until after week 1?
The Phinsider
@thephinsider
· Aug 27
I love Benito Jones. Dude just does the ugly stuff so well.
Hopefully he can shore up the run defense.
We need Britain Covey.
RAS on a nose tackle means absolutely nothing